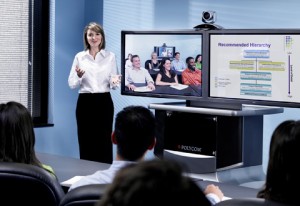 Polycom, a provider of unified communications (UC) solutions, today reported the results of a survey of 500 grade-school and university teachers across the UK, France, Germany, Russia and Nordics.
According to Polycom, the survey found that videoconferencing is the most desirable way for school teachers to communicate with parents, students and colleagues—when in-person interactions cannot take place.
According to the survey, 77% of grade school and university teachers think that more investment in videoconferencing would benefit their students and improve their education, citing the increased impact and engagement with subject matter that videoconferencing encourages. 67% of the teachers surveyed believe that videoconferencing improves core skills for use in later life and the workplace.
The survey also found that the use of videoconferencing across learning institutions is viewed somewhat differently by school teachers and university tutors, while teachers of school-age children saw the most potential for using videoconferencing as a collaborative working tool (65%) and for virtual field trips (60%) – in other words as a way to expand the scope of the learning experience, university tutors, said that a more important benefit of videoconferencing, from their experience, is the ability to  include more students – such as reaching home-based students (64%) or enabling those who missed a class to view it later (62%).
In addition to which, over half the university tutors (54%) also stated that access to subject-matter experts was an important feature of videoconferencing; and 56% saw videoconferencing as a means of extending their educational services, therefore enabling them to teach via distance learning, Polycom reported.
The popularity of videoconferencing as a method of communication in education is not surprising with an overwhelming majority (85%) of educators who expect the use of these technologies to increase over the next five years." said Gary Rider, EMEA president, Polycom. "The ability to connect students with other teachers and students around the world face to face has enormous benefits to their educational experience," he added.
"Video is the only technology that allows a visual, rich learning experience outside of being in the room together. Video also enables higher quality collaboration and learning. This important in an educational setting, especially distance learning, where teachers can ensure students are focused and absorbing new information better, while students can benefit from a richer learning experience," he said.
According to Polycom, in orderto fulfill it's commitment to enhancing the student and teaching learning experience, Polycom has now released a set of low-cost products specifically for the education market – Polycom RealPresence Education Bundle.
Polycom is offering its Polycom RealPresence Room HDX 7000 and Polycom RealPresence Room HDX 8000 bundles together with the newly announced Polycom UC Board for one year starting from November 2011, the company said.
Representatives of the company said these room telepresence systems provide users with high quality audio and high definition video communications from low bandwidths using standards-base H.264 High Profile Technology, which reduces bandwidth needs by 50%.
Polycome said that the UC Board is an innovative whiteboard solution which improves communication and collaboration in video conferences by instantly sharing content written on the whiteboard to all screens and mobile devices that are connected to the video meeting.
Both bundles also include 50 x m100 telepresence licences, the company added.
According to Polycom, to encourage the adoption of videoconferencing in educational institutions to enhance the learning experience, the company is also offering a 60% discount off the list price for certain products for one year from November 2011.