Batelco, a leading digital solutions provider in Bahrain, has launched Brinc Batelco IoT Hub, the first Internet of Things (IoT) hardware accelerator in the Middle East region.
Brinc Batelco IoT Hub was officially opened today in the presence of the Minister of Transportation and Telecommunications Engineer Kamal bin Ahmed Mohammed, VIP's, Batelco Board members and senior executives and Bahrain media representatives.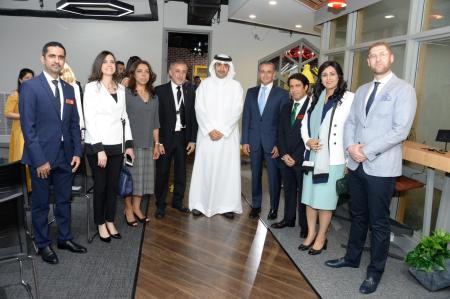 The Hub offers programmes and services tailored for IoT hardware start-ups and entrepreneurs looking for speed, access and the know-how to build successful companies. The Hub offers unprecedented opportunity to access mentorship, product design and development guidance, manufacturing and exposure to regional and global investors and markets, all in one programme.
Batelco Chairman Shaikh Abdulla bin Khalifa Al Khalifa said he believes that the establishment of the new Brinc Batelco IoT Hub which promises to be a leader in driving innovation in the field of technology.
"Batelco believes in the importance of enhancing the growth of technology and particularly digitisation, as it's in line with the efforts of developing this field within the Kingdom. These objectives will in turn support the growth of the economy and strengthen the Kingdom's position as the leading regional technology hub," he said.
"Encouraging innovation within the ICT sector is one of the most important factors contributing to the continued growth of the Kingdom's economy. We are very pleased to present Brinc Batelco IoT Hub which will help entrepreneurs achieve their goals in developing and launching innovative products and services," he added.
Batelco Bahrain CEO Mohamed Bubashait added that Batelco has been investing time, effort and capital to provide relevant digital solutions for consumers and businesses in the Kingdom of Bahrain as part of its drive to create the necessary ecosystem for a fully connected community.
"Encouraging innovation in the ICT industry is very important for the continued growth of Bahrain's economy. We are therefore very pleased to be on board in providing this excellent IOT Hub to help entrepreneurs reach their goals in developing and rolling out innovative products and services," he said.
Brinc Chief Development Officer and Head of Brinc MENA, Yasin Aboudaoud said that he is thrilled to see the efforts of both Batelco and Brinc MENA come to fruition with the launch of the Brinc-Batelco IOT Hub, the first venture of its kind in Bahrain.
Brinc was established in Hong Kong in 2014 with offices in Shenzhen and Guangzhou. From its base in China Brinc has supported hundreds of founders from around the world and invested in and supported more than 30 start-ups, with a portfolio that has so far generated more than $18 million in follow-along funding and has products shipping in hundreds of stores around the world.
For more stories on success and business transformation through technology subscribe to our newsletter. You can also follow us on Twitter and LinkedIn, and like us on Facebook to get daily updates on the latest tech news.