James Dartnell spoke with Microsoft's Omar Khan, general manager of Azure, at the cloud giant's Ignite conference at Dubai World Trade Centre, and heard how the firm is aiming to help developers build innovative services.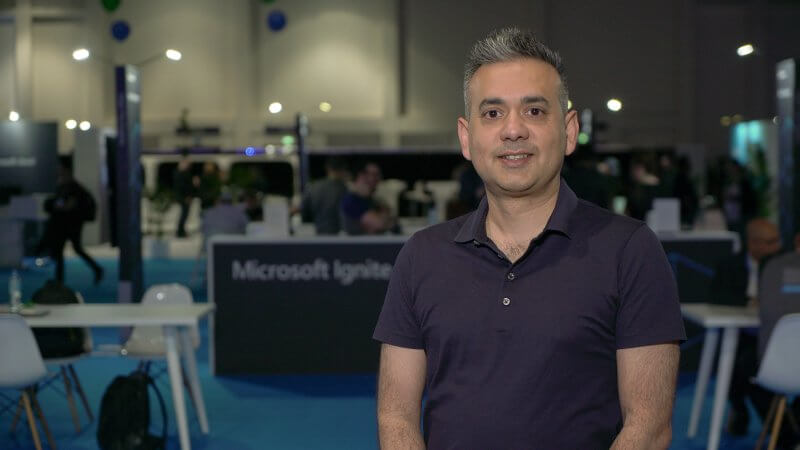 What has Microsoft tried to highlight at its Ignite conference in Dubai?
As a bit of context, Microsoft has been evolving its approach and is now talking to developers and IT professionals through Ignite, as we're seeing increased demand for technical knowledge and upskilling around cloud.
The content we deliver at every event is centred more around practitioners. We want to go deeper with technical upskilling, and we provide 10 different learning paths at every Ignite tour to supplement our content. Each learning path has a five-module unit, with a start-to-finish learning experience.
What levels of interest have you seen from regional developers in Ignite and Azure?
We've had over 3,000 people at this Ignite event, which highlights the demand for knowledge around more advanced and innovative topics around what cloud enables. We've seen a lot of interest from developers and customers that we've met here regarding AI and other emerging technology and scenarios.
Azure has unique capabilities to allow customers the flexibility to adopt cloud at their own pace. We have a hybrid approach globally. Organisations have different levels of maturity. Some have a higher velocity around cloud adoption, while some are more reserved and controlled, whether that's because of regulatory or internal reasons. Azure is unique because we provide a hybrid approach from the ground up, which lets customers adopt cloud at their own pace.
The one thing we emphasise with Azure is that it's an open platform for first or third parties, and has a very broad set of services for developers. A lot of Azure's workloads are Linux-based, which is a testament to how diverse it is.
What kind of services can developers and enterprises take advantage of with Azure?
Azure has over 100 services, from core infrastructure to moving existing workloads to advanced services around the intelligent edge and emerging AI services.
Azure has three main categories of services. It has a set of capabilities that lets developers build AI into their apps, with cognitive services and a bot to provide that human touch. It has knowledge finding services, which allow you to extract value that could be latent in your data. We also provide expertise in AI and machine learning, which helps developers focus on building custom services.
On an enterprise level, there are two journeys to the cloud that we see. Enterprises are following both paths to various degrees. One main driver is operational efficiency. The other motive is innovating at a faster pace to provide agility, better connect with customers and to empower employees.
What advantages does Azure offer compared to cloud platforms offered by Microsoft's competitors?
Azure focuses on a few main areas of differentiation. The first is productivity. We're focused on making services more productive for IT professionals. It has DevOps built in, with continuous integrations. Our productivity focus is on enabling the best open source platform, and includes Github, the world's largest open source platform. The investments we're making in open source really deliver the best ability to run any workload.
We focus on a hybrid approach from the start. Organisations at different levels of maturity have different needs. Azure Stack allows you to have the whole version of Azure hosted locally in your data centre. You can build apps in the cloud and not have to re-architect them.
We're very focused on enabling trust from a compliance and security point of view. We have the most compliance and security certifications of any cloud provider and are very engaged with standards bodies. We were involved in influencing the GDPR standard, and were the first to declare our support for that.
What are the biggest challenges enterprise customers face in migrating to cloud?
I think a lot of organisations are very early in their cloud journey and require guidance for how to leverage cloud. We emphasise the importance of providing help to customers at every step, whether that's providing early guidance or assistance at a technical level. A lot of that is through technology we build into our platform to help make things easy. We also have offers to make things attractive for Windows and SQL servers and have an Azure hybrid benefit offer. If you use Windows or SQL Server 2008 we provide extended support on those workloads for free.
You can can achieve 5x cost savings in moving workloads to cloud. We also have an ecosystem for support and a vast ecosystem of partners to help customers implement that transition.