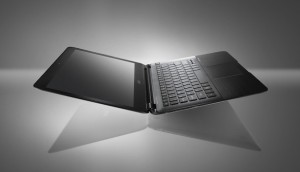 Acer today launched the world's thinnest Ultrabook, measuring 15mm at the maximal point and weighing less than 3lbs.
The Aspire S5, which is the latest in Acer's S Series of Ultrabooks, features the 'Acer Green Instant On' technology for fast boot and resume, and 'Acer Always Connect', which lets users manage their multimedia and data on their devices at any time.
Acer Green Instant On provides resume functionality in 1.5 seconds and ensures battery life that last "several weeks."
Acer Always Connect aims to get users online faster than conventional connections and allows them to see social media and email updates instantly upon resuming. It can also wake up the Aspire S5 from a remote device like a smartphone.
A 13.3 inch LCD screen and magnesium-aluminium alloy cover make up the aesthetic features of the Ultrabook, whilst it also pitches itself as the first Ultrabook to feature a 'MagicFlip I/O' port panel concealed just below the hinge. When needed, a press of the MagicFlip key opens the panel to reveal HDMI, USB 3.0 and 20 Gbps Thunderbolt ports.
"The Ultrabook is much more than just a product segment. It's a new trend that will become the mainstream for mobile PCs, and customers will see the unique features gradually extended across Acer's notebook family," said Jim Wong, president of Acer.
Although pricing was not officially revealed, a spokesman said the Aspire S5 will cost around 5,000 AED.
Acer also launched of the fourth generation its Aspire Timeline series, the Timeline Ultra, as well as the new releases of both its V5 and V3 Olympic series, which carries the Olympic logo.
On the tablet front, Acer launched the A510 Olympic, which it said has the largest battery capacity in the tablet market, and the A700, which it referred to as the "real" tablet, featuring wireless photo printing, social immersion and an enhanced battery and display from its predecessor.