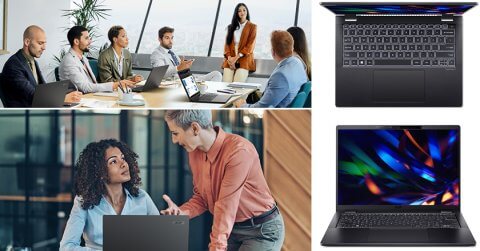 Acer today announced new TravelMate business laptops, all powered by 13th Gen Intel Core vPro[4] processors, and feature 16:10 premium OLED displays, 65 Wh fast charging long battery life, and secured log-in with fingerprint reader or IR camera[1], coming together to achieve the performance and mobility requirements of today's hybrid workforce.
Acer TravelMate P6 14
The latest TravelMate P6 14 is the ultimate premium business laptop for mobile professionals and executives. Professionals can experience elevated viewing experiences on a large screen surface with a 2.8K OLED (2880×1800) display panel, a 16:10 aspect ratio, and support for 100% coverage of the DCI-P3 colour space. Powered by Intel vPro, and an Intel Evo design[1], the high-end business laptop is packed with power as it comes with 13th Gen Intel Core i7 processors[1], 32 GB LPDDR5 memory[1] and a 65 Wh[1] fast-charging battery. Online business meetings and video calls are further enhanced with the laptop's FHD IR webcam[1], AI-powered noise-reduction technology through Acer PurifiedVoice, and upward-facing speakers with DTS Audio. A PrivacyPanel feature helps obscure viewing angles beyond 90°to defend against prying eyes. The TravelMate P6 14 laptop also features 2×2 Wi-Fi 6E and 5G connectivity for faster and stronger wireless internet connection needed by mobile professionals.
Acer TravelMate P4 14 and Acer TravelMate P4 Spin 14
The TravelMate P4 14- and 16-inch versions, along with the TravelMate P4 Spin laptops come with next-gen performance powered by 13th Gen Intel Core i7 vPro processors[1] in addition to NVIDIA GeForce RTX 2050 GPUs. The TravelMate P4 14 highlights a lightweight magnesium-alloy chassis and larger screen real estate on a 16:10 thin bezel display with up to 2.2K resolution, showcasing upgraded visuals in a new premium design. Additionally, the convertible TravelMate P4 Spin 14 comes with Corning Gorilla Glass, a touchscreen panel with up to WUXGA resolutions, and a dockable stylus for effortless handwritten note-taking.
Acer TravelMate P2 14 and Acer TravelMate P2 16
The Acer TravelMate P2 series laptop showcases a 14- and 16-inch 16:10 WUGXA (1920 x 1200) screen and an IPS wide-angle view of up to 170 degrees. The compact business laptops powered by 13th Gen Intel Core processors and NVIDIA GeForce RTX 2050 GPUs provide upgraded levels of usability with a larger OceanGlass touchpad, keys with a 1.55mm travel distance, and a 180-degree hinge that lets the laptop lay flat when needed. Connecting to the internet and peripherals have been made easier with support from Wi-Fi 6E[1] and 4G LTE[1] and the inclusion of a wide variety of ports such as a Thunderbolt 4 Type C port that supports 40 Gbps data transfer and dual 4K displays.
All the latest TravelMate business laptops run on Windows 11 and feature Acer Dust Defender technology to minimise the accumulation of dust and maintain consistent high-power performance. Acer Light Sensing technology intelligently detects ambient colour and light to adjust the brightness and colour temperature of the display, so the screen always looks natural and provides better viewing experiences overall. TravelMate business laptops' commercial keyboard provides larger touchpads, quieter clicks, and keys with 1.55 mm travel distance for fast and smoother typing. The laptops also highlight the efforts to reduce their carbon footprint by incorporating PCR plastic and ocean-bound plastic in the device, using 100% plastic-free and recyclable packaging, and having been granted TCO certification[2] with selected configurations in some countries and an EPEAT[3] rating. The Windows secured-core PCs with TPM 2.0 provides out-of-the-box protection, paired with Acer's User Sensing technology[5] on the TravelMate P6 14 and made optional on the TravelMate P4 Spin 14, TravelMate P4 14 and TravelMate P4 16 models, keeping data safe by locking the screen when users leave, and quickly waking up when they return.
Pricing and Availability
The Acer TravelMate P6 14 (TMP614-53) will be available in EMEA in July, starting at USD 1,399.
The Acer TravelMate P4 16 (TMP416-52) will be available in EMEA in June, starting at USD 1,299.
The Acer TravelMate P4 Spin 14 (TMP414RN-53) will be available in EMEA in June, starting at USD 1,249.
The Acer TravelMate P4 14 (TMP414-53) will be available in EMEA in June, starting at USD 1,199.
The Acer TravelMate P2 16 (TMP216-51) will be available in EMEA in June, starting at USD 1,049.
The Acer TravelMate P2 14 (TMP214-55) will be available in EMEA in June, starting at USD 999.
Exact specifications, prices, and availability will vary by region. To learn more about availability, product specifications and prices in specific markets, please contact your nearest Acer office via www.acer.ae.
Visit Acer's press kit for product images and specifications, or visit the next@acer press room to see all announcements.
[[i]] Model(s) with model numbers starting with TMP214-55-TCO, TMP216-51-TCO, TMP414-53-TCO, TMP416-52-TCO, TMP416-72-TCO, TMP414RN-53-TCO, TMP614-53-TCO, TMP614-53T-TCO, and TMP614P-53-TCO are TCO Certified. For more information on our TCO Certified devices, please contact your local sales representative.
[[ii]] EPEAT registered where applicable. EPEAT registration varies by country. See www.epeat.net for registration status by country.
[4] Specifications may vary depending on the model and region. All models subject to availability.  ​Fast charging means providing 4 hours video playback for 30 minutes charge.
[5] Acer User Sensing bundled software may vary depending on hardware configuration, OS, and regional availability. For TravelMate P6 14, Acer User Sensing is available on all SKUs. For TravelMate P4 14, TravelMate P4 Spin 14 and TravelMate P4 16, this is an optional feature.