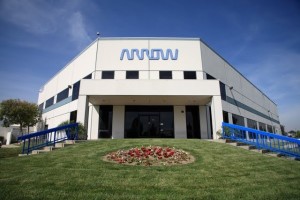 Arrow Electronics announced last week that it has signed a definitive agreement to acquire value-added distributor Computerlinks.
"This acquisition supports our strategy to serve the data centre of the future and strengthens our position in this rapidly growing segment. We are excited to welcome the Computerlinks team to Arrow," said Michael J. Long, Chairman, President and CEO, Arrow, in a statement.
Headquartered in Munich, Germany, Computerlinks has regional offices in Europe, North America, the Middle East and Asia. Sales in 2013 are estimated to total approximately $950 million, according to Arrow's statement.
The acquisition is expected to be worth $0.20 to $0.24 accretive to earnings per share, exclusing the impact of amortisation of related intangible assets, in the first year post-closing, Arrow added. The purchase price of the deal is approximately $300 million.
The acquisition is subject to regulatory approvals and is expected to close in the fourth quarter of 2013, Arrow's statement said.
Arrow serves as a supply channel partner for more than 100,000 original equipment manufacturers, contract manufacturers and commercial customers through a global network of more than 470 locations in 55 countries.