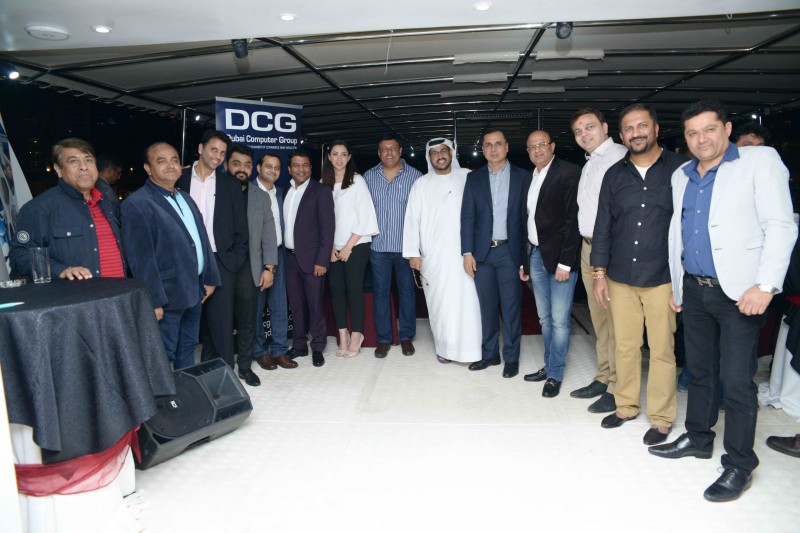 Dubai Computer Group (DCG) held its Annual General Meeting (AGM) this month onboard the luxury yacht, Monalisa with Toshiba as its exclusive sponsor.
Over 160 members witnessed a detailed presentation by Bastian James, regional product manager, Toshiba, who showcased the history and future of storage devices. Santosh Varghese, general manager, MEA, Digital Products and Solutions Toshiba was present on-board and expressed his full support to DCG and committed the firm's active participation with the community members.
Dubai Economy also presented the preview of the soon to be launched App 'Engage DXB' at the event. Darshan Shetty, principal business analyst, Strategic Planning and Business Development, Department of Economic Development (DED), Dubai spoke to members of the benefits of the App as a platform that would connect the business community with various groups and councils along with Dubai Economy
Shetty said, "Engage DXB is Dubai's first virtual networking platform. This platform will act as a bridge between public and private sector. The platform presents a huge networking prospect too– networking is not just connecting people, it is also connecting minds and opportunities.  Industries have traditionally worked in silos, we are enabling them to break the barriers to communicate between themselves and learn from their challenges and success stories."
Dharmendra Sawlani, president, DCG, highlighted the work DCG had undertaken in 2017 and future plans to enhance the scope of business and benefits to members. He also emphasised on the importance of expanding membership and DCG's engagement with various government bodies to help IT business community progress.
"At our AGM, we reflected on our past performance, discussed future plans and acknowledged our well-wishers and supporters. We are also excited about DED's Engage DXB app, created to connect the business community together. It will be a platform for all business groups and councils to voice their concerns directly to the government and network with peers across verticals," he added.
Khalaf Al Otaiba, chairman, DCG on his closing remarks thanked all members for their support and active participation in all of DCG endeavors.
Sawlani applauded the growth of Dubai Computer Group from a perceived group of IT traders to a diverse business group with software companies, solution providers, major IT distributors and large IT vendors as its members now.