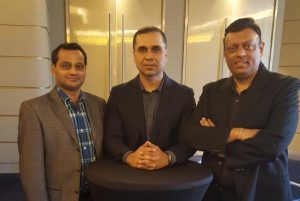 Dubai Computer Group (DCG) hosted its fourth edition of Business Symposium and Networking series last week at W Dubai, Al Habtoor City.
The event offered opportunities for the local business community to come together and network while also enhancing the scope through the activities set by DCG.
In his opening note, Dharmendra Sawlani, president, DCG, said, "Over the last few editions, we have raised the bar and exceeded initial expectations. Our focus is always on value addition to our members. Our events aim at educating the reseller community on how they can transform their businesses in the evolving market environment."
The event featured eminent personalities from various faculties such as Edris Ahmed Behzad, director, Client Management, Dubai Customs, Matein Khalid, chief investment officer, Asas Capital, DIFC and Reg Athwal, who is a well-known public speaker, author and angel investor.
Athwal's presentation revolved around how partners should look at taking their business to the next level.
He said, "Being able to adopt new technologies and adapt to the changing market conditions will define the success of a firm. How many of you have a plan in place to grow your business to other markets?"
He explained the 'pillars of four oceans' concept, where the first one is all about being customer centric, the second one is getting out of the comfort zone and expanding your base to include customers in other markets, third is about ensuring value addition and the fourth ocean is when a firm reaches the stage of complete innovation.
Moderated by Sawlani, the event also featured a panel discussion, which discussed key topics such as the vision and future of Dubai, how brands can support partners better, and what firms need to do to transform and grow their business.
The Business Symposium was sponsored by AMD and Linksys. The Supporting Partners included XFX and New Trend Computers along with Learning Partners, Right Selection.