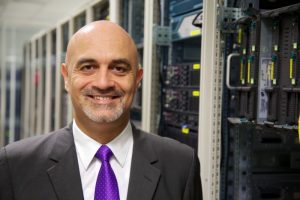 Managed hosting and cloud infrastructure services provider eHosting DataFort (eHDF) has announced investments over AED 20 million in its T3 Data Centre upgrades over the last 12 months. These investments were strategically implemented to tackle the future demand for data centre usage in the Middle East, which is witnessing strong growth. The investments will also enhance and widen the portfolio of services offered.
"Conscious of the increase in the managed and data centre service markets in the UAE, which according to IDC indicates an expected annual growth rate (CAGR) of 19.8 percent between 2013 and 2018 to reach a total of $971.8 million by 2018, eHDF charted out a strong plan to strengthen its data centres in Dubai. Our upgrades were systematically planned, procured, installed and tested in alignment with the existing design and needs of our future business. We are confident that our investments will facilitate business transformation and are especially designed to meet the growing demands of our customers," said Yasser Zeineldin, CEO, eHosting DataFort.
The range of upgrades include the deployment of Cisco Application-Centric Infrastructure (ACI) that will strengthen eHDF's delivery of a much faster and more agile services while reducing administrative complexity and infrastructure costs. Simultaneously, laying of overhead cable trays for data cables in two layers – one for copper and another for the fibre optic cable was carried out. The firm said that the data centre, which spans 1000 plus sqm white space received a new raised flooring, which was incorporated for better cooling efficiency. According to the company, to supplement the existing backup power, higher and more effective battery replacements were made with additional run-out testing.
Also, the re-alignment of the hot and cold aisles was carried out under the new raised flooring to meet the new technology upgrade requirements and provide required uniform and un-hindered air flow. With growing need for additional security, eHDF upgraded its access control system and CCTV system with IP encoding of all cameras and email alerts in case of faults with a 1-year video back up for governance and compliance purposes. In keeping with the available technology to ease processes, eHDF also replaced physical logbooks with an electronic visitor management system with dual factor authentication.
"We are seeing an increased demand from our customers for enterprise-grade Data Centre facilities as they prepare for digital transformation and evolving data needs of a hyper connected world. As an industry leader, eHDF continues to invest and provide best in technology and infrastructure," added Zeineldin.
In addition to providing highest levels of service standards, the firm has worked towards its goals of becoming more environment friendly and has made investments in a non-hazardous and non-toxic nitrogen based fire suppression technology for the new facility.
eHDF has invested in a Building Management System (BMS) that helps monitoring and maintaining the new data centre's equipment and systems. This would allow the company to effectively manage and measure the power usage, enabling customers to plan their infrastructure based on the same.
Zeineldin added, "The upgraded Data Centre will continue to deliver world class solutions in accordance with the Middle Eastern requirements."