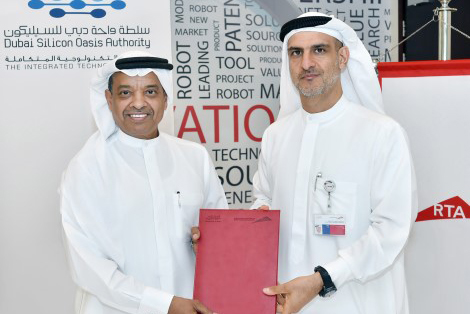 Dubai's Roads and Transport Authority and free zone technology park Dubai Silicon Oasis Authority (DSOA) have joined forces in a strategic partnership to test self-driving cars at within the Authority's free zone area.
Ahmed Bahrozyan, CEO of the RTA's licensing agency and chair of its smart vehicle committee, and DSOA's Deputy CEO of operations and client affairs Dr. Juma Al Matrooshi signed a memorandum of understanding (MoU) at the RTA's headquarters to cement the partnership.
"We are very proud to partner and collaborate with the DSOA to carry out our smart mobility plan on the premises of Dubai Silicon Oasis, which provides both an integrated living and working community," Bahrozyan said. "We are confident our collaboration will go a long way towards achieving the vision of 25% of total trips in self-driving mode by 2030."
"As a centre of excellence and testbed for smart city applications, we aim to contribute to the research and development of new driverless mobility technologies," Dr. Al Matrooshi said. "DSOA has joined hands with RTA to increase the number of driverless journeys in Dubai. A significant step in building a long-term fruitful partnership with RTA, the MoU is a testament to the status of Dubai Silicon Oasis as a reputed proof of concept and an important contributor to the leadership's Smart Dubai vision. To practically contribute to the realisation of this vision, we dedicated routes for the trial of RTA's smart vehicles at the integrated technology park of DSO.
"RTA's remarkable achievements, executed in record time, have hugely contributed to the rise of Dubai as a modern cosmopolitan city and international public transport icon on par with the most advanced global metropolises," he concluded.