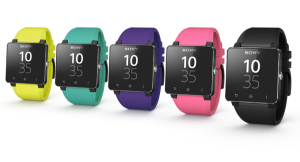 Sony's SmartWatch 2 is compatible with Android and also is equipped with one-touch NFC. According to the company, it enhances existing phone functions and offers new benefits.
Usually, smartphone users look at their phones throughout the day for reading messages, checking time, viewing and updating social media, for apps, music, photos and games; the SmartWatch 2 allows these functions through a touch screen device on the wrist, which makes it convenient, says the company.
Sony is working closely with developers for even more optimised apps. The smart watch also introduces new features as a natural successor to the Sony SmartWatch such as NFC connectivity for one-touch pairing, stunning premium design and a range of technologies including higher resolution for sharper viewing, better visibility even in sunlight, longer battery stamina, more intuitive interface, standalone watch functionality and a wide range of pre-installed and recommended apps.
Priced at AED 799, the Sony SmartWatch 2 is available with all leading regional retailers.