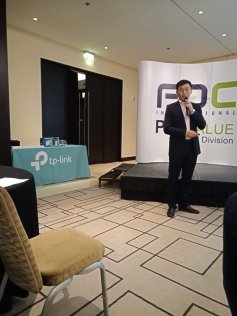 TP-Link has signed FDC International as its regional distributor to increase the firm's market horizon and brand visibility even further.
As per the agreement, FDC International will involve SI and channel partners who will offer TP-Link SMB products and solutions to their clients or end users in the UAE region.
Lucas Jiang, general manager, TP-Link MEA, said, "What helped turn the decision in favour of FDC International was how well-equipped they are in taking care of their clients' requirement. And we trust them to offer reliable services that will strengthen our SMB networking business in the channel community and end-consumers."
The SMB business by TP-Link ensures ease of management, high performance and professional support to customers, said the firm. At the alliance meet, USPs and insights on SMB product range and uniquely advanced solutions like Jetstream, Omada Ecosystem, Auranet Wi-Fi, Pharos Wireless, Managed Switches and Safestream Routers were discussed. List of challenges and solutions were spoken about that helped SIs and channel partners to understand every brand element.
TP-Link also encouraged partners to enroll for the online Training & Certification programme, which is a dedicated partner portal that caters to pre-sales, sales and technical knowledge. This programme offers support to the SIs to grow their share of business with TP-Link's solutions in the SMB segment.