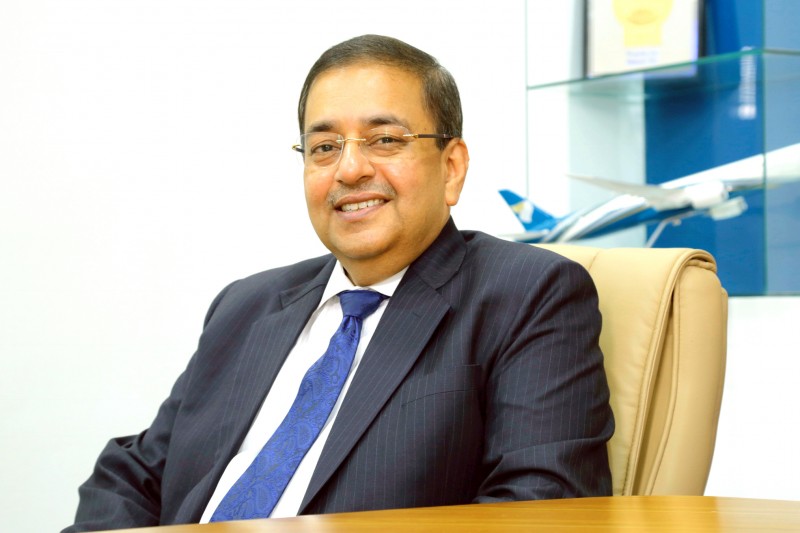 "I don't follow the rules, that's my problem." Sourav Sinha has always been one to trust his instincts, and if results are anything to go by, he's right to do so. Now committed to introducing technological change and to challenge his IT staff to "go outside of their boundaries", his work has already yielded positive impact across the company in a number of key areas.
Sinha joined Oman Air in 2013, just as the airline was looking to reinvent itself. He had previously worked for Qatar Airways as group CIO, joining in 2004, and would go on to play a key role throughout the airline's expansion in the coming years. "When I joined Qatar Airways in 2004, it had 34 aircraft in its fleet," Sinha says. "By the time I left, it had 70."
Oman Air has experienced a similar upturn in fortunes to that of Qatar Airways in Sinha's tenure, with its fleet rising from "under 20" in 2009, to over 50 today. While that rise can't be attributed to Sinha alone, the wheels of transformation that he has set in motion are more than in keeping with the overall growth. "There are a few things that we tried to improve when I first arrived," he says. "The main things were changes in terms of our commercial activity, sales and routemap. The most important thing to achieve was to see where the airline's gaps were." In the midst of this, Oman Air's IT was also due a makeover. "Technology had lagged behind until people begun to notice its inefficiencies," he says. "The systems and processes were not sufficient to support the airline's operations."
A crucial part of technological change would be a comprehensive mapping of processes throughout the company. This would encompass engineering, flight operations and cargo handling among other areas. "If you don't set the core right, complexity ensues," Sinha says. "Systems were not meeting the company needs in a number of areas. There were gaps in integrations between systems which couldn't continue. Perhaps most importantly, data was incomplete and inconsistent."
One of Sinha's first priorities was to establish an electronic flight bag – an information management device used by pilots on board aircraft – to help the airline take a key step in digitalising its processes. "This was a big step forward for us," he says. "It gives pilots enhanced data and insight into metrics such as their flight performance and fuel consumption."
The IT department went on to equip all pilots with iPads, which have become an "inseparable" part of their work. "This removes delays in getting data onto the ground," Sinha says. "It also assists in engine performance calculations, as well as making their job easier."
The use of iPads is also set to be extended to a number of areas within the airline's operations, including cabin crew, engineering teams and ground handling. "Engineering teams will have live insights into maintenance requirements, and will have improved access to OEM guidelines and documents," Sinha says. "Checklists could previously take days to be entered into the system, but the entry process will be slashed. Ground operations are also absolutely key, and are central to the way an airline is run." Tablets will also be used by cabin crew to record customer feedback, which will be delivered at a faster rate than ever before.
Sinha and the IT department have also designed an innovative way to reduce food wastage on board the aircraft. Once first-class customers make online reservations, they receive an email which asks them to request their in-flight meal and drinks choices from a list of options. "This means that customers know what they are getting in advance, and that we don't have to carry excess food on board," Sinha says.
Throughout the course of the changes Sinha has instigated, he has made it a priority to gain the buy-in of IT staff and senior management members by articulating the benefits of technology. "Oman Air staff do see the value in IT, and that makes my job easier," he says. "It's important that you use technology to drive value, and that your technology decisions are driven by market forces. Facts and figures always help to elucidate issues around technology."
A key example of this is the way in which Sinha has deployed dashboards for Oman Air's leadership that provide results on key performance metrics. They now have greater access to a range of datasets, including the fuel efficiency performance of the airline's captains. "Fuel is one of the biggest costs an airline must bear," Sinha says. "Captains will always claim that they need a certain amount of fuel to fly a certain route, but by showing them that others can use less on the same route, that becomes one of their KPIs to be more efficient, which in turn saves cost."
However, Sinha is far from satisfied with Oman Air's use of data. He sees "big gaps" in the ways that the company understands its customers, although this is largely due to the ways that tickets are purchased. "Roughly 70-75 percent of our ticket sales go through distribution agents, and that means we don't get an understanding of customer as early as we would like," he says. "The sooner that we can get an understanding of them, the quicker we can offer more personalised services, which will only increase their satisfaction."
Following the severance of diplomatic ties and airline routes between Qatar and Saudia Arabia, the UAE, Bahrain and Egypt, to name but a few countries, one could be forgiven for thinking that opportunity could be in store for Oman Air. With a number of other regional airlines cutting their flights to Doha, could Oman Air scoop up that business? "The changes haven't yet impacted Doha-Muscat traffic," Sinha says. "We don't expect it to increase as such, but we're of course ready to provide what customers want if that demand is there." On the global stage, meanwhile, Sinha describes business in Europe as "improving", while the firm's traffic from the Far East has historically been "good".