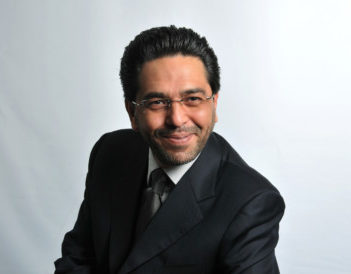 Formerly CIO and CFO of Saudi Arabian Airlines, Muhammad Ali Albakri now combines technology and finance acumen in his role as the company's executive vice president for strategic projects and airline transformation. He explores the technologies and trends that he believes are defining the aviation industry.
The airline industry posted record profits of $39.4 billion for 2015, according to the Airlines Industry Financial Health Report published in August by the International Air Transport Association (IATA). IATA industry financial analysts have continued to report solid financial results for Q1 and Q2 2016, which provides great opportunities for airlines to address a wide spectrum of issues that would normally receive much lower priority in less profitable times.
In spite of lower fuel costs, which have directly benefited airlines across the world to post these profits, airlines continue to upgrades their fleets – both wide and narrow bodies – in search of further fuel efficiencies and lower maintenance costs. Investments are also focused on improving airline products, passenger services, and upgrades of facilities and infrastructures to handle the growing number of travellers across the world.
It is estimated that 1 percent of the world's GDP – $740 billion – will be spent on transport in 2016, with the number of passengers steadily increasing (by 6.2 percent) in spite of the economic slowdown. The average return ticket fare (before surcharges and taxes) is $366 – 62 percent lower than 21 years ago after adjusting for inflation, according to the IATA.
Research shows that investments by airlines and airport operators will continue to grow in efforts to adapt new technology trends to improve airport services, and that they will introduce more revenue streams services, instead of mere 'informational' services to passengers.
Advanced mobile and self-service for things like reservations, ticketing and payments; check-in; baggage drop off and self-boarding are some of the areas still receiving major attention by airlines and airports operators. Wearable and airport sensors are also areas that seem to be gaining support both by consumers and airlines alike.
Airlines are also devoting budgets to investing in applying BI technologies to move beyond flight disruption management functions of 'communications' and 'situational awareness' into more complex areas of predictive analysis to anticipate and avert costly operations disruptions and avoid disastrous PR situations with passengers. BI and predictive analysis will attain actionable data, which could potentially help airlines and airports avoid embarrassing situations and avoid untold financial losses.
Such investments will eventually yield more benefits to airlines, airport operators and passengers by avoiding irregular operations and major disruptions, which can do significant financial and reputational damage to airlines' and airport operators'.
New Distribution Capacity
It is my belief that the two most important aspects that will reshape the travel industry are the IATA NDC (new distribution capacity) initiative and digital wallets. Both of these game changers will have far-reaching impacts on all travel industry providers as well as consumers, where the impact will be huge as it will uproot current prevailing business models.
NDC will reverse some of the market share lost by travel agencies, who used global distribution systems (GDS), to airlines' direct sales channels, by allowing travel agencies to manage rich content in similar ways to those rendered by the airlines' direct channels. This will provide further information and content to shoppers to select the product they most desire, based not on availability and fare alone, but by comparing full features of competing airlines' products. NDC will also enable airlines to sell more ancillaries through GDS, which is a strategic revenue stream for the airlines.
Through the standardised IATA certified XML interface, airlines can distribute their offers to requesting travel agencies based on the intended traveller's profile and preferences. Airlines will package the offer and personalise it to the traveller's taste, taking advantage of their internal data warehouse, which hosts a huge amount of customer data to improve their chances of making a sale.
Using Bitcoins to conduct business transactions, meanwhile, both on personal and B2B levels, will eventually supersede all the currently popular payment methods of credit and debit cards, and will disrupt all the existing costly and fraud-prone underlying infrastructures to process such payments.
For decades, payment for airlines services was initially restricted to cash payments at the ticket office, but this grew to become dominated by the credit card industry. Such payment methods did make transacting between travellers and airlines (or travel agencies) easier. However, it also created yet another set of challenges, and introduced extra costs that the airlines and travellers didn't necessary need. Moreover, these traditional payment methods are prone to fraud, misuse and lengthy settlement periods, which in reality add more complexity to the process and prolong the cash-flow cycle, thereby hurting the airline industry, which needs cash-flow.
Digital wallets
Digital wallets will obliterate every process built around current payment methods, and will introduce more direct, simpler and fraud-free processes and, most importantly, will cut out all intermediaries between the travellers and the airlines industry. Payments will be instantaneous, secure, simple and without the huge amount of applications systems built over many years to process payments and settle deposits between parties.
Travellers will not be limited to a choice based merely on fare and seat availability. They will be able to fully compare the product and linked services by seeing first-hand the actual features, dimensions, shape and colour of whatever they are purchasing. This includes aspects such as the shape and feature of the airlines seats, meals and beverages, entertainment systems and cabin ambiance.
The introduction of the NDC is considered a driver in changing the underlying technology which was built in the 1960's, which 70 percent of all airlines' products are currently distributed through. NDC will drive GDS providers to upgrade and develop their platforms to truly present airlines' products and services as they really are, and not as seen through a very narrow perspective of ticket fare and seat availability.
Security
Lastly, cybersecurity and physical airport security will continue to occupy the attention of airlines, airport operators and travellers, and investments to advance preventive solutions will continue to receive top management support of all related parties. Recent unfortunate events at airports across the world have encouraged authorities, airport operators and airlines to invest in smart and advanced technology to share data, utilise AI technology for early detection, and to prevent awful attacks that can lose customers' confidence, result in huge financial losses, and, worst of all, cause human causalities.