Apple is said to be spending as much as $1 billion over the course of 2018 on original TV programming. That's a lot of TV! It's not the $8 billion Netflix is going to spend, but it's still a huge commitment.
What can you get for a billion dollars? Well, some simple math gives us 200 episodes at $5 million a piece (a reasonable per-episode price for high-end TV). But we're not likely to actually see 10-20 shows with 10-20 episodes each, all costing around that much. For starters, that billion dollars has to cover a lot more than per-episode production costs.
The bulk of Apple's TV content is likely to be in production throughout 2018, with actual release dates in 2019. We'll probably see a mix of show types, from reality TV to dramas, and even a few films and miniseries, too. Currently, Apple's TV efforts are accessed through Apple Music, but that's not really an optimal experience. We don't know if the company will simply release content through iTunes, the TV app, or a new channel, but access is likely to be tied to Apple Music subscriptions—at least in the near term.
While most of Apple's TV projects are shrouded in secrecy, what little we know confirms that Apple is spending big bucks on top-tier talent. The two projects released in 2017 (Planet of the Apps and Carpool Karaoke) were uninspiring, but prospects seem far better for the future.
Here's a list of all the exclusive TV content we know Apple is working on, along with expected release dates.
Planet of the Apps
It's like Shark Tank for app developers! Celebrity judges Will.i.am, Gwyneth Paltrow, Jessica Alba, and Gary Vaynerchuk sit through pitches by app developers who go on to try to earn big VC money.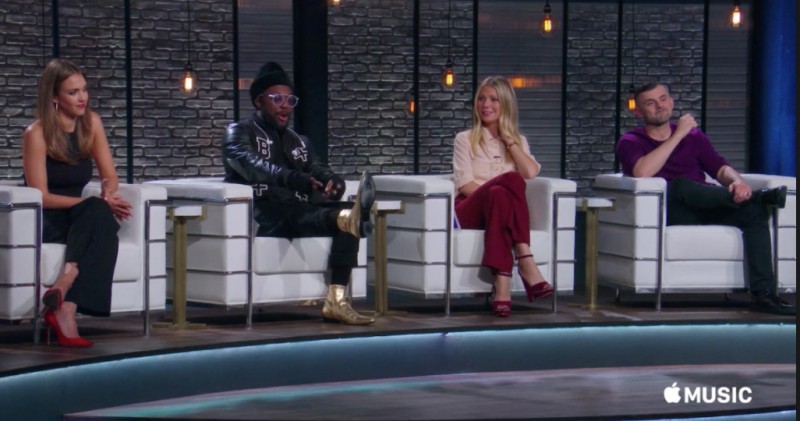 Famous entrepreneurs judge apps, with the winners scoring big VC money.
It's…not great. There's nothing inherently wrong with Planet of the Apps, really. It's just sort of boring. Each of the 10 episodes is nearly an hour long, and doesn't manage to capture much drama about the developers or the challenges they face in bringing their ideas to market. It all moves too slowly, and feels crammed with "celebrity factor" where the developers should really be the stars.
The whole exercise feels like it was made for Apple (because Apple = Apps!) instead of for viewers who want to watch an entertaining show.
Planet of the Apps has 10 episodes in its first season, which premiered on June 6, 2017. No second season has been announced.
Carpool Karaoke: The Series
James Corden has this great bit on The Late Late Show where he hops into a car with celebrities and they sing along with the radio. See? Celebrities do the things we do!
It's usually a short six- or seven-minute segment that can be quite entertaining. You know, just the right thing to go viral on YouTube (as several segments have done).
What better thing to turn into a TV show that plays only on a music service, right?
James Corden hosts the first episode with actor/rapper Will Smith, as well as the final episode, but none of the others.
Unfortunately, the tight, breezy pace of The Late Late Show segment doesn't translate well to a series where each episode is about three times as long. Perhaps it only works as a "break" from the in-studio talk show. Perhaps the whole concept is just a bit old and boring. Maybe it's Corden who makes the magic—he only hosts the first episode and the 19th and final one. For whatever reason, the hit segment simply doesn't translate into a hit show.
Carpool Karaoke: The Series premiered on August 9, 2017. It ran one episode per week for 19 episodes, with the last one posting on October 31. CBS Corp. CEO Leslie Moonves announced on February 15, 2018 that Apple has ordered a second season of the show. The season premiere date has not been announced.
Central Park
According to a report from Deadline, Apple has signed a two-season, 26-episode order for a new animated music comedy called Central Park. The show is produced by 20th Century Fox TV, and is the brainchild of Loren Bouchard (creator of Bob's Burgers), Nora Smith (Bob's Burgers executive producer) and Josh Gad (who voices Olaf in Frozen).
The show stars some top-tier voice talent, including Josh Gad, Kristen Bell, Titus Burgess, Stanley Tucci, Leslie Odom Jr., Daveed Diggs, and Kathryn Hahn. The story, according to Deadline, is about how, "a family of caretakers, who live and work in Central Park, end up saving the park, and basically the world."
Central Park has no projected release date yet.
Night Shyamalan thriller series
According to Variety, Apple has ordered a straight-to-series run of a psychological thriller produced by M. Night Shyamalan, the director known for writing and directing Unbreakable and a bunch of lesser movies.
We don't know anything about the series yet, except that Apple has ordered ten half-hour episodes, and that Shyamalan will direct the first one but apparently, perhaps mercifully, none of the others. The series will be written by Tony Basgallop.
This series does not yet have a release date.
Swagger: a drama series based on Kevin Durant
According to Variety, Apple is developing a drama series based on the early life and career of NBA superstar Kevin Durant. Inspired by Durant's youth basketball experiences, Variety says "it will explore the world of Amateur Athletic Union (AAU) basketball and the lives of the players, their families, and coaches."
The series will be produced by Brian Grazer and Ron Howard's Imagine Television along with Durant's Thirty Five Media. It will be written and directed by Reggie Rock Bythewood, best known for the TV series Shots Fired and for writing the Notorious B.I.G. biopic Notorious.
Apple's Eddy Cue talks with Kevin Durant courtside in Charlotte.
We should note that Durant currently plays for the Golden State Warriors, of which Apple VP Eddy Cue is a huge superfan.
Swagger does not yet have a projected release date.
Amazing Stories
Okay, so Apple's first two experiments with original programming weren't exactly Game of Thrones breakout hits. We can consider those to be toeing the water, with more exciting announcements to come. The first of which is a revival of Steven Spielberg's Amazing Stories.
The original Amazing Stories ran for only two seasons in the '80s, yet was nominated for a dozen Emmys (winning five).
When you saw this on your TV, you knew you were in for a good time. I wonder if Amblin will keep this title treatment?
Apple has struck a deal with Amblin Television to produce a 10-episode run, with Bryan Fuller as showrunner and a rumored budget of about $5 million per half-hour episode.
So, the writer-producer of Dead Like Me, Heroes, Pushing Daisies, Hannibal, American Gods, and Star Trek: Discovery is getting a beefy budget to revive one of the most beloved and awarded (if short-lived) shows of all time. We can't wait!
According to The Hollywood Reporter, Bryan Fuller has left the project, citing creative differences. Hart Hanson, who was co-producing it with Fuller and Spielberg, will take on a larger role in the show.
Amazing Stories has no release date yet.
Are You Sleeping
Apple has tapped Reese Witherspoon's production company Hello Sunshine to adapt the true crime best-selling book Are You Sleeping: A Novel by Kathleen Barber.
We don't know a lot about it, except that the adaptation for TV is written by Nichelle D. Tramble (The Good Wife, Justified) and will star the excellent Octavia Spencer, who won an Oscar for The Help and was nominated for another for Hidden Figures.
The story is about a hit podcast (think: Serial) that reopens a long-closed murder case in the public eye, and unravels the life of our protagonist, Josie, who had finally put her troubled old life behind her.
Are You Sleeping has no release date yet.
Little America
Fresh off their big indie hit The Big Sick, husband-and-wife team Kumail Nanjiani and Emily v. Gordon will co-write and executive produce a new half-hour anthology series about immigrants called Little America. They will share writing duties with Lee Eisenberg, who will serve as showrunner. Alan Yang, known as the co-creator of Master of None together with Aziz Ansari, will also executive produce the show.
It will be based on the true stories printed in Epic Magazine's Little America series. Deadline says the show will "go beyond the headlines to look at the funny, romantic, heartfelt, inspiring and unexpected lives of immigrants in America, at a time when their stories are more relevant than ever."
Reese Witherspoon & Jennifer Aniston morning show drama
Is Apple going to air a morning talk show? Not quite.
This new series (also produced by Witherspoon's Hello Sunshine production company) is not a morning news show. Instead, it's a drama about making a morning TV news show. It supposedly draws heavily from the book Top of the Morning: Inside the Cutthroat World of Morning TV by Brian Stelter.
Real-life buddies Witherspoon and Aniston are teaming up for a drama about morning TV shows.
It's easy to imagine that what Sports Night was for SportsCenter, this show would be for the Today Show.
So far we don't really know anything about it or when it will air, except that Apple has ordered two seasons of 10 hour-long episodes each. The writer and executive producer is Jay Carson, who served as a producer on House of Cards.
The show doesn't have a title yet (that we know of), and has no release date.
Ronald D. Moore sci-fi series
In December, Deadline published an exclusive with a few juicy details of yet another Apple TV series. Written and created by Ronald D. Moore (best known for Battlestar Galactica), and co-executive produced by Matt Wolpert and Ben Nedivi (Fargo) the series explores what would happen if the global space race had never ended.
We don't yet know the series' title (it may not have one yet!), nor when it will be released, but it seems early in production—there's no talk of directors or stars yet attached. Given that this is the kind of show bound to have plenty of post-production special effects, I wouldn't expect to see it until 2019.
Home
It looks like Apple wants to cash in on the "look at the fancy homes of fancy people" TV craze, with its own unique twist. According to Variety, Apple has ordered one full season of 10 hour-long episodes of a new show titled Home.
It's billed as a documentary series, and is being produced by veteran documentary writer-producer duo Matt Tyrnauer and Corey Reeser, along with several veteran producers from Time Inc. Productions. It is said to "offer viewers a never-before-seen look inside the world's most extraordinary homes, and delves into the minds of the people who built them."
So it sounds like it will be more about design and technology than Million Dollar Listing or MTV Cribs. All the better to sell you nifty HomeKit stuff, right?
Home has no release date yet.
Kristen Wiig comedy series
SNL alum Kristen Wiig is set to star in her first regular TV gig since leaving SNL in 2012. According to Variety, Apple has ordered a 10-episode, half-hour run of a new comedy variety show staring Wiig.
The show is created and produced by Colleen McGuinness (30 Rock, About a Boy) and is inspired by Curtis Sittenfeld's collection of short stories You Think It, I'll Say It (which isn't even out yet).
This is the third Apple series to be produced by Reese Witherspoon's production company Hello Sunshine.
This project does not yet have a title or release date.
See
Apple has put in a full series order for See, a futuristic drama. The size of the series order is not yet known, but Deadline reports that it will probably consist of eight episodes.
The series is written by Steven Knight (Peaky Blinders, Dirty Pretty Things) and directed by Francis Lawrence (The Hunger Games: Catching Fire and Mockingjay Parts 1 & 2).
So far we don't know anything about the series, except that it's supposed to take place in the future and is what they call a "world-building" series, that is, one set in a different reality than our own (think: Westworld, Bright, Game of Thrones…).
There have been no stars yet announced for the series, nor a release date.
Damien Chazelle drama series
According to Variety, Apple has gone straight-to-series (ordered a whole season of a series without first shooting a pilot) on a drama by Damien Chazelle. Chazelle is the acclaimed writer and director of La La Land and Whiplash, and is currently working on a Neil Armstrong biopic called First Man.
No details have been given about the series at all, except that Chazelle will write and direct every episode. We don't know the subject matter, the stars, the length of each episode…really nothing at all.
There is no release date set for this series, but considering that Chazelle is currently in production on First Man (set to release in theaters on October 12, 2018), it's probably a long ways out.
Vital Signs
Waaay back in early 2016, word dropped about Apple's first homegrown TV series.
Called Vital Signs and produced by Dr. Dre, it is said to be a six-episode miniseries where each episode focuses on a specific emotion (Vengence, Ego, Negativity, Innocence…). It's also a semi-autobiographical tale of Dre's life.
This was before Apple was dedicated to spending really big bucks on its own exclusive video offerings, and thus the series was originally conceived as a way to help promote Apple Music and drive subscriptions.
Andre Young, aka Dr. Dre, produced the first real Apple original TV miniseries. But it's totally MIA.
In the spring of 2017, star Ian McShane (Deadwood, John Wick), who plays Vengeance, said the series was going to release in August. Well, it's now way past August and we haven't heard or seen a thing about it. Not a trailer, release date, promotional art…nothing!
Either the miniseries is in big trouble and has to be drastically re-worked, or it's just so good that Apple's saving it for a big launch of its original TV programs or perhaps a new streaming video service. By all accounts, filming appears to have been wrapped up for a long time.