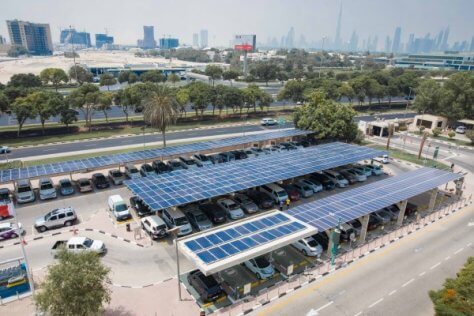 The Dubai Electricity and Water Authority, DEWA, has authorised the 2MWp Solar Carport Project, at its headquarters and at the Ministry of Climate Change and Environment, MOCCAE, building, reported Emirates news agency, WAM.
DEWA launched the project in 2017 as part of the Shams Dubai initiative, to increase reliance on clean energy, support the Smart Dubai initiative, and achieve its vision of becoming a "sustainable innovative world-class utility."
This project covers a total of 885 parking spaces in the two locations, using 6,700 locally manufactured solar modules, spanning an area of 13,200 square metres with a total production capacity of 2,000 kW. This is equivalent to a reduction of about 1,500 tonnes of carbon emissions annually.
[To learn more about how artificial intelligence is transforming industries, register for TahawulTech.com's Power of 4: Fourth Industrial Revolution Forum | For more stories on success and business transformation through technology subscribe to our newsletter.]
Saeed Mohammed Al Tayer, MD and CEO, DEWA, said, "The Solar Carport project at DEWA's headquarters and at MOCCAE is part of our efforts to encourage the public to benefit from DEWA's Shams Dubai initiative. This project supports the Smart Dubai initiative, launched by His Highness Sheikh Mohammed bin Rashid Al Maktoum, Vice President, Prime Minister and Ruler of Dubai, to make Dubai the smartest and happiest city in the world.
"It also achieves the objectives of the Dubai Clean Energy Strategy 2050 to make Dubai a global hub for clean energy and green economy by providing 7 percent of its total energy from clean energy sources by 2020, 25 percent by 2030, and 75 percent by 2050."
According to Al Tayer, through this project, DEWA aims to enhance the happiness of its stakeholders, promote the concept of green and sustainable buildings, and instill a sustainable culture of energy consumption.
"We also aim to reduce the reliance on traditional energy sources, by helping Dubai's governmental entities meet the target set by the Dubai Supreme Council of Energy to cut 20 percent of energy consumption in all government buildings by 2020. This is aligned with the UAE Vision 2021 to create a sustainable environment, and the Dubai Plan 2021 to make Dubai a smart and sustainable city with clean, healthy and sustainable environmental elements," he added.
He stated that the Shams Dubai initiative, launched by DEWA in 2015 has been successful. The initiative encourages homeowners to install photovoltaic solar systems on the rooftops of their buildings and connect them to DEWA's network. Through Shams Dubai, a total of 1,145 buildings have been connected to DEWA's network, with a total capacity of 49.9 MW.