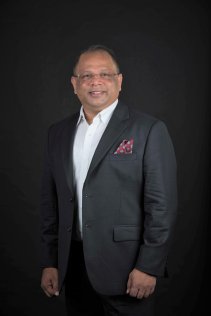 Narayanan Venkataraman (KV), Interim Managing Director, HP Middle East & Turkey, took part in an exclusive Q&A survey for tahawultech.com about the nature of hybrid work.
We know that we now live in a work from anywhere world, but some businesses are still grappling with the demands that now exist in terms of empowering a hybrid workforce. In your opinion what are the elements that can make hybrid work successful?
Hybrid work is here to stay. It's an exciting new world filled with the power and potential to transform business; as every organisation is unique, each will adopt its own approach to hybrid. HP Global Hybrid Working Survey finding have shown that 11% of global workforce are working exclusively from the office, 6% are working exclusively from home and 70% are working a blend of two to four days from the office, with the remainder from home. This means we must embrace hybrid work as a long-term reality, and we must make it work for all.
The right approach to hybrid work depends on optimizing businesses technology, processes, and culture to meet the needs of their workforce. HP believes that success lies in embracing three crucial C's – Connection, Clarity, and Collaboration – at the heart of the new hybrid working culture.
To support a hybrid workforce, businesses need a technology fleet that meets diverse needs, works seamlessly across all devices, is simple to manage, and enables many styles of hybrid work. This requires designing a technology strategy around connectivity, flexibility, and were beneficial, automation.
In response to this shifting environment, HP significantly enhanced its portfolio of devices to keep people connected and productive in any setting. With the goal to empower collaboration and security, HP designed devices with the performance and efficiency needed by today's hybrid workforce.
Enabling and encouraging collaboration and innovation in today's new world of work is essential. Research shows that teams of knowledge workers who collaborate intentionally are nearly three times more likely to achieve high team innovation than teams that do not use an intentional approach. While hybrid working provide new ways for employees to collaborate productively, businesses need to intentionally create those opportunities. There are many ways to do this—using made-for-collaboration hardware, deploying software that makes remote collaboration easy, facilitating onsite sessions as needed either at headquarters or satellite offices, and optimising workflows with tools that save time and boost productivity.
How are HP leveraging their portfolio of products and solutions to help some of their customers bridge the gap when it comes to enabling their workforce to be as effective and efficient outside the traditional compounds of a physical office, to ultimately allow them to work where they want, and when they want?
Hybrid work requires more than simply collaborating and working together. It challenges technology to provide the same experience no matter where people are. Workplaces are now wherever people want them to be, but the expectations of their work doesn't change. People need to be seen and heard clearly and be productive and inspired.
In today's hybrid world, we have entered a world of multi-device experiences, constantly swapping one device for another while navigating quick bursts of creativity on the go to extended focus times at a desk. Creators in this new environment need digital solutions that are accessible, consistent, complementary, and continuous.
HP is helping IT optimise the end-user experience for employees, from wherever they work. It is also supporting IT teams and resources by providing easier management tools, better visibility for proactive actions, and greater peace of mind with robust, multi-layered security.
With some people working at home and others returning to the office, dedicated desk users want PCs with breakthrough audio and video capabilities that enable them to collaborate, create, and focus without sacrificing performance. HP Presence meeting space and PC technology addresses the issue of side-lining with high quality video and audio functionality and smart features to empower employees to feel equally seen, heard and connected whether in the room or not. HP Speaker Frame highlights those who are speaking to make sure everyone feels heard when talking, while premium audio sound-levelling ensures it is the meeting conversation – the moment of connection – that is always the focus of attention rather than any background noise.
For instance, high quality video like enabled by HP 965 4K Streaming Webcam empowers employees to clearly see and understand their colleagues' responses in hybrid meetings. The webcam is also Zoom certified to deliver a superb conferencing experience with technologies designed to work seamlessly with Zoom.
The HP UAE Hybrid Working Survey is a comprehensive report, but from your perspective, what were the most striking findings to emerge?
The HP Hybrid Work Survey was conducted on a sample of 2234 employees in the UAE, and the same was done in several other markets as well. In the UAE, the survey has found that almost 70% of the respondent feel that hybrid work makes them more productive. This was mainly because they feel that they are able to focus and concentrate on their tasks better and they have more flexibility with their time.
Another discovery is that, nearly two thirds of workers in the UAE believe overcoming the barrier to effective communication comes down to clarity, with 68% saying that working statuses in collaboration and productivity apps no longer adequately reflect today's flexible working styles.
Additionally, many strongly believe that hybrid work has given them the chance to re-evaluate their work-life balance. Employees now have more freedom to plan work around their schedule with the choice to be both remote and office based. A total of 70% of respondents agreed that Hybrid Working provides an opportunity to improve employee wellbeing and work-life, and this was apparent across all age groups.
Many believe the ability to alert colleagues to nuanced working states is key to promoting greater togetherness. Two in five (42%) say a 'free until' message would aid colleague connectivity, while 40% say they'd welcome the clarity that a 'ready to collaborate' status would give.
What do you believe the future of work is going to look like in the UAE in the next 5 years, will we continue to see this blend between the office and home, or will it swing more in the one direction?

Employees' attitudes toward work have shifted substantially in the last year and a half. While many people still value the advantages of working in a physical office, such as better focus and collaboration chances, they aren't ready to give up the flexibility that remote work offers.
While most organisations in the UAE recognise the importance of flexible working, there remain opportunities to fully realise its vast potential. HP Global Hybrid Working Survey, two thirds (66%) of UAE workforce say it has made them more productive, while a significant 70% believe it offers an opportunity to enhance employee wellbeing.
However, inequalities are beginning to emerge, and unless we take action these could undermine hard fought for inclusive working cultures. Many young people in the survey spoke of feeling sidelined by the hybrid working experience. Almost one in five (19%) of those under 30 feel their PC or laptop isn't fast or reliable enough to participate fully in hybrid meetings, while almost half of the respondents have experienced 'tech shame' or embarrassment when their tech has disrupted a hybrid meeting.
Whilst young peoples' experience of hybrid working seems to be the most polarising, they are not alone. One in five (20%) of UAE's hybrid workers still feel left out of decision-making processes when they're not physically in the room.