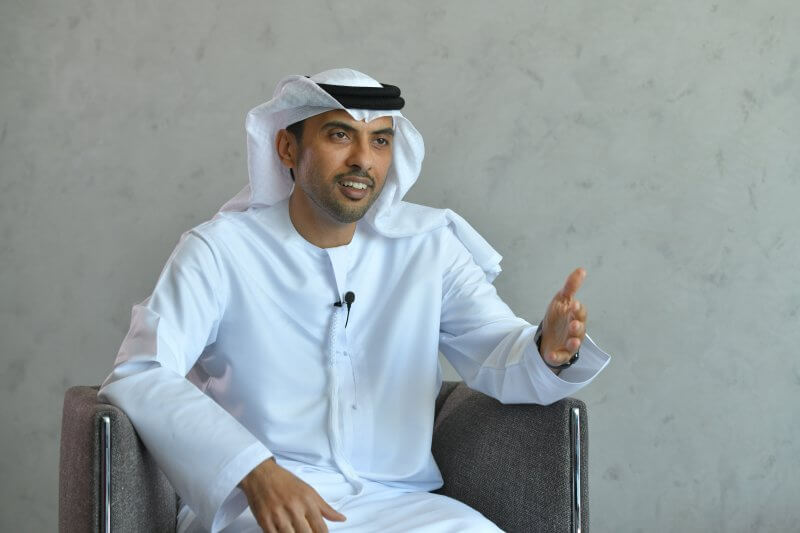 Established in 2015, Smart Dubai's goal is easier said than done – making the city the happiest in the world through technology.
"We do this through three main goals," CEO Wesam Lootah says. "The first one is to do with governance and planning through the digital transformation of the city. We work closely with all government entities to to set goals and KPIs. We then have to design seamless digital experiences for residents and visitors. This is where Smart Dubai provides services and enabling technologies that are used by the government and the private sector. The third one is around ecosystem enablement. We believe that it's not just about the government, but also the private sector – creating ecosystems.
One such example of "seamless" service that the Dubai government has prioritised is the national digital identity concept it announced at GITEX Technology Week 2018 – UAE Pass, which will be a "key focus" for Smart Dubai in 2019. Dubai has previously launched the single sign-on service Dubai ID, but has since worked closely with the UAE Telecommunications Regulatory Authority to manage existing infrastructures to create a national digital identity across the emirates. "It will allow citizens to access all local and federal government services and to digitally sign agreements, which is a very important part of digital transformation," Lootah says. "This eliminates the need for people to be physically present to sign agreements. We're working closely with banks to adopt UAE Pass for the opening of bank accounts, and we really hope citizens embrace this this year."
Suffice to say, happiness is difficult to measure through traditional KPIs. However, Smart Dubai is constantly looking to advance its channels that can deliver real-time information on sentiments of the city. For the past two years, Smart Dubai has used its Happiness Meters, which are a "very simple" way of measuring happiness across digital and physical channels. The Meters delivers surveys that customers can complete at the end of each interaction with the government. Smart Dubai has already collected over 20 million votes since the Meters were launched, and have delivered a happiness Index of 89%. Smart Dubai previously measured customer satisfaction through surveys, which typically had a 3-4 month process of collecting and analysing and actioning information.
"With the Happiness Meter, we have a real-time stream of votes that are coming in, telling us what is and isn't working," Lootah says. "This allows decision makers who are delivering services on the ground or through digital channels to make adjustments and to see how the changes affect the happiness of customers in real time. Our goal is to reach 95% by 2020. We've always set happiness as our main compass. It's what guides our decisions and it's the goal that we're trying to achieve. For us, technology is a means to an end, creating seamless and unique experiences that can allow us to put the customer first. It's very important for us to see what's working and what's not. We don't always get it right so this is a way for us to see what we need to enhance."
Lootah is particularly conscious of the need for Dubai to keep pace with global technology technology giants, who he believes have set the bar in terms of delivering the best possible customer experience. "We need to be more responsive to customer needs as a government, and it's one of the biggest challenges that the public and private sectors face," he says. "We're in the era of social media and immediate responses, and expectations have been set by Internet giants like Apple, Google or Amazon. They've led the private sector in terms of customer experience. This is what Smart Dubai has been focusing on for the last three or four years. In the past, people were happy if they ordered a book online and it arrived two weeks later. Now, you expect it to come immediately with services like Amazon, where you download a digital copy instead. Expectations have grown year after year."
With Dubai's population growing approximately 6.5% every year, with this figure being driven almost entirely by new expatriates, Lootah knows that an smooth arrival process must be prioritised in order to deliver a stress-free experience for new residents. "If a person moves to Dubai for the first time, they need to move into a new house and get a car," he says. "We give them a driver's license or Ejari registration number, but this isn't what that person wants. They want to drive a car and don't care about the license. We're working with our partners to deliver an end-to-end experience through one channel. The same goes for finding the right home. Once a person has chosen where they want to live, they sign an agreement with the landlord and register the agreement through their Ejari number, as well as getting electricity, water and telecoms services. By 2021, we want to digitise all these journeys."
In 2018, Smart Dubai launched the Dubai Paperless Strategy, which gave the government a mandate to focus on digitising government services and eliminating the use of paper within the government. It also encompasses a focus on "end-to-end journeys" to make sure government and private sector services are integrated.
"We're seeing people become more comfortable interacting with the government through online services," Lootah says. "The aim of being paperless by 2021 and being fully digital isn't just a technological challenge, it's also about changing mindsets to ensure people have the trust to interact digitally. If you think about it, what we're trying to achieve has never been done and has never been announced as an ambition by any government entity. We're saying that we will not be issuing or requesting any papers. Everything will be 100% digital. Your tenancy or employment contract or birth certificate will all be digital. I think that takes a high level of trust in digital forms and that's a challenge we're working on."
The Dubai Paperless Strategy aim also ties in with the Dubai Blockchain Strategy 2020, which aims to see 50% of government services run on blockchain platforms by next year. Lootah says the government has already made significant progress in transforming processes through the distributed ledger technology. Smart Dubai has partnered with IBM to create a blockchain-as-a-service platform, where government entities can avail the technology as a service so that government entities are free to focus on applicable use cases instead of managing the underlying technology.
"We embarked on our blockchain strategy back in 2016 with the aim of increasing the efficiency of government entities," Lootah says. "We've worked with over 20 government entities on 13 use cases so far that have all been progressing well. Many of them have already gone live. The Dubai Land Department has put land registry on blockchain. Dubai Economy has put business registry on blockchain. We also have cases with the Department of Finance, DEWA, KHDA and many government entities, along with the banks, where they've eliminated the need for reconciliation and settlement, and have changed a process that used to take almost 45 days down to almost zero time. We're seeing some traction with blockchain and government efficiency."
Smart Dubai has also been working "very closely" with its partners to ensure that the city can attract investors, developers and startups, and Lootah knows that realising the city's future economic ambitions will depend on its ability to attract and grow the right talent. "We've seen many companies call Dubai their home and headquarters," he says. "Creating an ecosystem and economy around emerging technologies is very important to us. We want people to test their blockchain innovations in Dubai. Whenever you're working on something that's new and hasn't been done before, there is a scarcity of resources when it comes to these technologies. This is a challenge that comes with trying to be a pioneer and do something for the first time. We want to attract the right talent to Dubai and that's something we have to do in order to be successful."
A key part of that strategy is ensuring that the government works hand in hand with the private sector, which Lootah believes is an indispensable pillar of government strategy. "All of our initiatives depend on working closely with the private sector," he says. "I think the perspective we see from countries like the United States is that the private sector always leads in terms of innovation and creativity, and the public sector tends to lag behind. In the UAE and Dubai the formula is a bit turned around, where the government leads in terms of innovation and delivering services."
Looking ahead, Lootah is hugely optimistic that the country's youth will be well positioned to take advantage of the digital economy. The skills that will be required in the next 50 years will be "very different" from what's been required over the last 50 years, he says. "That's the nature of this evolution," he says. "People are now saying we're in the Fourth Industrial Revolution, and this is being driven by things like artificial intelligence and robotics, and will have a big impact on the economy. We see scarcities in jobs like data analysts or scientists, and there's more and more demand for people who have skills in coding and technology. We're seeing steps towards helping the next generation for jobs of the future like One Million Arab Coders and the introduction of coding to school curriculums."