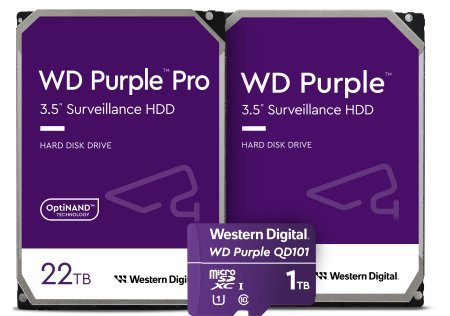 CNME Editor Mark Forker takes a closer look at the, WD Purple product portfolio in an exclusive overview for tahawultech.com
In just about every element of daily life, data is working overtime to capture and produce information. As we all enjoy the hyperconnectivity of our evolving digital world, we don't often recognise the challenges and opportunities this exponential growth in data creates. Specifically, when we think of smart video, where data volumes have increased exponentially. These smart videos utilise artificial intelligence algorithms and deep learning to analyse visual data in real-time and deploy insights. This information can be crucial to a myriad of industries and organisations, improving operational efficiency, information sharing and better quality of local authority services.
We know that 24/7 surveillance systems are now the new norm, but it's crucial that you ensure that you are utilising the capabilities of that system by introducing smart solutions to your operational model. Smart video architectures require innovative storage technologies, which deliver needed flexibility, performance, capacity and reliability. Robust on-board storage must be specially designed to meet the needs arising from multi-streaming devices, on-device deep learning systems and AI-training solutions.
But what smart solutions are available on the marketplace that can transform security surveillance you may ask?
Well, allow me to introduce you to the – WD Purple product range, from surveillance hard drives like the WD Purple Pro, to the high endurance Purple microSD card for always-on security video cameras and on camera storage.
Western Digital continues to disrupt and innovate in smart video storage technology, becoming a market leader in the space with their ground-breaking solutions.
But let's take a look at the components that make the WD Purple storage family and its transformational and revolutionary set of solutions.
WHAT'S IN THE DRIVE?
What's promising about the WD Purple range is that it does exactly what it says. Unlike other solutions that promise you the sun, the moon and the stars, this product range delivers. It really is as simple as that. The WD Purple hard drives, available in capacities from 1TB to 14TB*, are designed to support and compliment deep learning analytics in AI – and provide an enhanced workload rating of up to 360TB/yr. It is designed specifically to operate in 24/7 environments and is the heartbeat of high-definition security systems.
The WD Purple portfolio as a whole can also take you beyond surveillance by providing secure, reliable solutions from edge to core. The essence of the Western Digital philosophy is that their solutions allow for the user to capture relevant data, store that information reliably, and then let users analyse the data that's been captured through AI.
For example, WD Purple Pro HDDs, have evolved to provide high data transfer and write speeds, in addition to world-class video capture. The newly launched 22TB* WD Purple Pro CMR HDD with OptiNAND technology delivers big capacity to address digitally driven trends, in a purpose-built enterprise-class drive. All WD Purple drives are equipped with AllFrame technology, which improves ATA streaming to help reduce frame loss and improve overall video playback, within a multitude of security video solutions. It supports video analytics servers, and AI and deep-learning systems. WD
Purple Pro drives are engineered with advanced capabilities needed for high-end smart video solutions, including cameras, NVRs (network video recorders), and back-end video analytics servers. It is rated well for its high endurance with demanding AI workloads. The latest WD Purple Pro 8 TB to 22TB* drives, offer an increased workload speed of 550 TB per year** compared to 180TB per year for WD Purple drive.
COMPREHENSIVE DATA JOURNEY: FROM EDGE TO CORE
Western Digital sits on the first-of-its-kind surveillance innovation for business—the only product line on the market to not only capture and record what happens, but to store and enable data to be analysed with AI efficiency. Its WD Purple portfolio take surveillance beyond current perceptions. The new WD Purple drive is loaded with industry-firsts, including OptiNAND technology, delivers big capacity in an enterprise-class drive for video analytics servers, AI, and deep learning systems to enable data-driven outcomes.
KEEPING YOUR COOL
It's hot in the Middle East, very hot. But Western Digital's WD Purple products are built to cope with the extreme demands of high temperatures, and that sort of durability, robustness and resilience is essential in the Middle East climate. WD Purple drives are engineered specifically for surveillance to help withstand the elevated heat fluctuations and equipment vibrations within NVR environments. An average desktop drive is built to run for only short intervals, not the harsh 24/7 always-on environment of a high-definition surveillance system. With WD Purple, you get reliable, surveillance-class storage that's tested for compatibility in a wide range of security systems.
The comprehensive storage portfolio of WD Purple also includes microSD cards designed to provide unique features such as card health monitoring functionality, humidity resistance and the ability to operate in extreme weather conditions and climates.
EXPAND YOUR TRUST
Western Digital is a global leader when it comes to storage. It is a premium brand, and like other premium brands it is trusted because it provides solutions that empower its end-users. Again, the WD Purple delivers on this front for smart video – and has the added capacity of being able to increase your visibility and expand your view. The drives are optimised to support up to 64 single-stream HD cameras*** in addition to 32 concurrent AI streams. The WD Purple range allows end-users the flexibility they need to upgrade or expand their security systems.
ARE THEY COMPATIBLE?
"They just weren't compatible for each other", that's something we've heard in many walks of life, but a lack of compatibility is certainly something that you don't need to worry about when using WD Purple products.
For example, the WD Purple product family is compatible with DVRs, NVRs and related equipment of most of the leading surveillance and security manufacturers –and is tailored to meet the requirements of your system from edge to core.
THE FINAL VERDICT?
The WD Purple family allows you to gain deeper insights and make better, data-driven decisions with its smart video storage capabilities. It is a trusted brand among system integrators, end customers, and other key stakeholders, with a reputation for reliability and quality.
*1GB = 1 billion bytes and 1TB = 1 trillion bytes. Actual user capacity may be less depending on operating environment.
**Workload Rate is defined as the amount of user data transferred to or from the hard drive. Workload Rate is annualised (TB transferred ✕ (8760 / recorded power-on hours)). Workload Rate will vary depending on your hardware and software components and configurations.
***Single stream per camera @ 3.2Mbps (1080p, H.265, 25 fps). Results may vary depending on camera resolution, file format, frames per second, software, system settings, video quality, and other factors.
Western Digital, the Western Digital design, the Western Digital logo, IntelliSeek, OptiNAND, and WD Purple are registered trademarks or trademarks of Western Digital Corporation or its affiliates in the US and/or other countries. The microSD mark is a registered trademark of SD-3C, LLC. All other marks are the property of their respective owners. Product specifications subject to change without notice. Pictures shown may vary from actual product.