CNME Editor Mark Forker secured an exclusive interview with Jamie Burrows, co-founder and CEO of Vertical Future, to learn more about how the technology created and deployed by the UK-based vertical farming technology company can tackle global concerns around food and water security.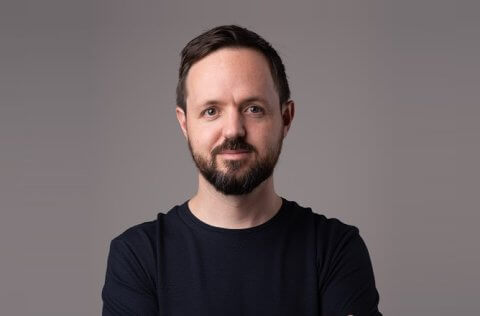 Jamie Burrows spent the best part of a decade working in the healthcare and life sciences industry.
He has worked for the Department of Health in the UK, and prior to that role worked for Deloitte and spent 4 years in the Air Force.
However, by 2016, the entrepreneur had decided the time was now right to go out on his own and establish his own vertical farming company, Vertical Future.
"I have always been interested in human health. I think one of the most interesting aspects of vertical farming, or controlled-environment agriculture (CEA) is the fact that it is not only about improving planetary health, but is also very much focused on human health. It's a technology and crop science driven sector, so you essentially can't have one without the other," said Burrows.
Burrows revealed that the company had very little capital at its inception, and were very much a 'boot strap' company when they launched in 2016.
"When we formed Vertical Future in 2016, I funded it myself. However, I then used my assets as leverage and pretty much went all at it for the business – with a bank debenture over everything I owned. We ran a small vertical farm in London for the first couple of years, and built up a strong customer base, and then over the last four years we began to focus on the technology. The reason behind our decision to focus on technology is over the last 10-15 years, we have seen massive growth in vertical farming in general, predominantly driven by the US market, despite the fact that vertical farming has been around in different forms for around a century or more," said Burrows.
Burrows said a lot of this new growth in vertical farming had been driven by concerns around food and water security, and the fact that governments globally were pursing the new carbon agenda, ESG – and a real desire to reduce their dependence on imported food which would see a significant reduction in food miles.
"Vertical farming can eliminate all of the above issues, by simply controlling the environment in which you grow your crops, and applying the correct technology and integrating it with crop science in an effort to bring about different expressions in plants. One really basic example is using and selecting different wavelengths of an LED light throughout the course of a crops lifecycle to bring about different outcomes corresponding to the two different metabolisms of a plant. All plants are different, and some want different things at different stages of growth, just like a human. Vertical Future can control all of these factors, but if you're growing outside, or in a greenhouse then you can't, because quite simply you don't have the technology, and you're dealing with all these variables which you have absolutely no control over," said Burrows.
Burrows believes that the vertical farming sector is one industry where you can really see that technology is dealing with all the huge socio-economic, macro-economic, and global issues currently facing all of us, and highlighted their increased focus on technology over the last four years.
"Since moving into the technology side of things in 2019, we've designed, built, commercialised, manufactured, and deployed eight vertical farms across the UK. In terms of the Middle East region, we're moving in there because we firmly believe that it is one of the regions globally that is going to need the most amount of input with this type of technology. The way I attempt to explain this to investors is to convey to them that this is a sector that is going to require significant capital investment in the short-medium term, by literally pumping billions into new infrastructure, like they are already doing in the Middle East, with projects like NEOM," said Burrows.
Burrows declared that the way you improve the productivity of the asset moving forward will be done through data.
"We've set up our model in a way where we go and build vertical farms for customers. We collect data from every single process in every farm that we build, and we centrally compile that data, analyse it, anonymise it, and then create new growing algorithms that we commercialise, sell, or share across the network. The data that we get from these farms creates a really exciting opportunity for advancements in crop science – and we've already seen that happen during our 7-year life as a company," said Burrows.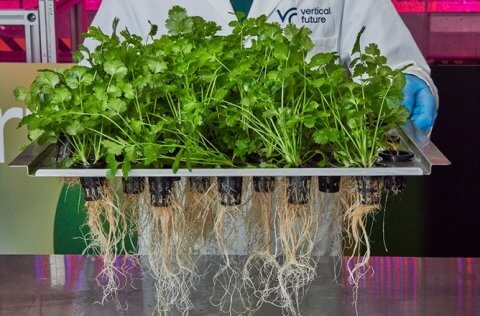 Burrows also highlighted the key role played by its SaaS platform called DIANA.
"We have a software-as-a-service platform called DIANA, which effectively connects all the farms and provides us with information on all the growing and automation algorithms on each individual farm. We barcode and track everything, so we can determine everything that is happening from seed to plate, what has happened to a crop, what type of seed is being used, and what growing algorithm has been used, and all of that is centralised through our platform DIANA," said Burrows.
Burrows claimed that Vertical Future are only really at the beginning of figuring out what to do with all the data they are generating, and how they commercialise it.
In addition to this, he highlighted some of the seismic projects they are involved in that were garnered through the awarding of grants.
"We have won a lot of national and international grants from bodies such as Innovate UK, and that has enabled us to tap into the collaboration that you get from those relationships with businesses and institutions. We currently have one project in Australia, where we are working with NASA and a number of leading academic institutions, and the 2020 Nobel Prize Winner for gene editing in crops, and these partnerships are actually focused on space. Essentially, what we are trying to determine is how do we design these systems so that they can be used in space, and then we take all the outcomes of these projects, and evaluate what we have learned, and what we can do to improve things back here in the UK," said Burrows.
Burrows said it was a very exciting time for the company, and revealed that the company raised £22.5m last year, and have recently started another significant raise, some of which has already been raised. He said one of the key differentiators of Vertical Future compared to other players in the market was the fact that they weren't a 'grower brand' and has a fully horizontally and vertically-integrated model, aligning with customer demands.
"We are not really a grower brand, in a sector where there are a lot of them. They make their money from buying farms and technology and then grow produce to sell to the marketplace, but we are very, very technology-focused. We have a very different business model, and typically, when we build our farms, we would have different types of finance and funders that will come in and fund under an SPV structure because there is a huge interest in this sector. It has drawn a lot similarities with the interest that was in solar energy around 10 years ago. Despite the instability in the market, there is still a real demand and interest from investors to invest in this sector, because they know it is a long-term asset that has to be invested in because we need food and water security," said Burrows.
Burrows believes that Vertical Future have a very unique and different vertical farming system to its market competition.
"There are no systems in the market that have tried to automate the entire process – but at the same time many competitors are very selective about the definition 'end to end'. There are no vertical farms that track as much data, or have fully integrated an in-house software solution within their technologies. We definitely have a couple of competitors globally, but we refer to them with the exception of one as systems integrators. They do have some propriety in terms of intellectual property, but what they do is source different components from different companies bundle them together and say this is our product. However, the problem with that is in order for a vertical farm to be very efficient and be able to deliver on price parity with cheap foreign imports then you need a technically efficient process of the product in every area," said Burrows.
However, Burrows was critical of the business model pursued by systems integrators.
"We have seen during this huge growth curve a lot of companies buying from system integrators in the US, behaving like tech companies, and attaching a huge valuation despite the fact they have tiny revenues, and many of them go bust. However, some of them are also too big to fail now due to the scale of investment they received," said Burrows.
There is a saying in business that timing is everything – and Burrows believe they have got their timing spot on.
"We are in this phase now where we believe we have timed it perfectly because we did the growing, and we are unique in the sense that we are a technology company, but we also have a lot of growing and operating experience that we can translate to our customers. We have learnt from all of the issues of what I would describe as the first-generation technologies of the last 10 years," said Burrows.
One other key differentiating factor according to Burrows is their ability to manufacture their own systems which gives them full control over their supply chain.
"We have everything in-house from a horizontal standpoint in terms of intellectual property and our systems, but we are also now almost fully vertically integrated, and we manufacture our systems as well with the exception of LEDs. We have manufacturing facilities in North London, and we are working with one of the sovereign wealth funds in the MENA region to open a manufacturing hub there as well to service our projects across the Middle East. Being able to manufacture in-house means we control the supply chain, and this is another huge market advantage for us because there is so much disruption in the current global supply chain," concluded Burrows.