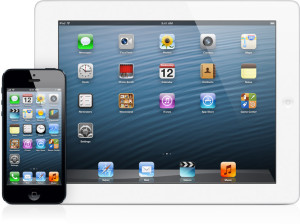 Apple's iOS is closing the gap on rival Android in the US market, according to new statistics released today by Kantar Worldpanel ComTech, which says that the three months that ended in May 2013 saw iOS' share of the American smartphone market grow by 3.5 percent.
With both overall smartphone sales and Android's share thereof remaining steady on a year-over-year basis, the gains made by iOS represent a closing of the gap between the two top mobile operating systems – the latter platform accounted for nearly 42 percent of sales, while Google's Android remained on top with 52 percent. Windows Phone took a distant third place, with 4.6 percent.
Kantar credits new iPhone 5 customers on T-Mobile for much of iOS' growth – despite not being released until half-way through the three-month period, the device was T-Mobile's top seller.
"iOS' strength on T-Mobile appears to be the ability to attract first-time smartphone buyers, upgrading from a feature phone. Of T-Mobile consumers who bought an iOS device since it launched on the carrier, 53 percent had previously owned a feature phone, well above the market average of 45 percent of iOS owners who previously owned a feature phone," said global consumer insight director Dominic Sunnebo in a statement.
Interestingly, however, iPhone sales failed to arrest T-Mobile's declining market share among US carriers. Despite aggressive new marketing campaigns and differently structured service plans, T-Mobile remained in fourth place – last among major carriers – with 10 percent of the market. That represents a 3.4 percent decline compared to the same time period in 2012. Sprint accounted for 12 percent, while AT&T and Verizon took home 29 percent and 34 percent, respectively.
For Apple, however, the news is good – having gained ground despite the release of new flagship Android devices from Samsung and HTC, the bump the company is likely to get from the widely anticipated release of a new iPhone later this year could propel it even closer to parity with its main rival.