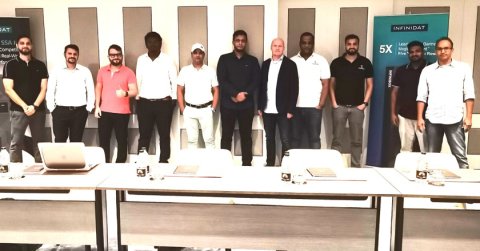 Infinidat and ASBIS Middle East conducted partner training and certification program to strengthen commitment to gain enterprise storage expertise in their successful program on 08th and 09th December 2022, in Paramount Hotel, Dubai. Infinidat, a leading provider of enterprise storage solutions, the company has grown its business delivering enterprise storage solutions to cloud service providers (CSPs), managed service providers (MSPs) and managed hosting providers (MHPs) to 31% of Infinidat's customer base.
Infinidat training and certification is expanding its offerings for partners in order to advance their skills journey with open enterprise storage technologies. Joining Infinidat's Certified Partner Program provides our channel partners with sales incentives, added resources, and exceptional support to increase sales and certifications that reflect a partner's technological knowledge and success rate in sales and delivery of Enterprise Storage Solutions.
Infinidat delivers a comprehensive portfolio of enterprise storage and cyber resilient solutions powered by a common software architecture across our InfiniBox, InfiniBox SSA II and InfiniGuard platforms, including Infinidat's cyber storage resiliency solution − InfiniSafe. The InfiniBox, the InfiniBox SSA II, and InfiniGuard platforms are available with Infinidat's flexible consumption options, including Storage-as-a-Service with Infinidat's FLX program, Capacity on Demand with its Elastic Pricing model, and traditional purchase.
Alvaro Clemente Gil, Infinidat EMEA Channel Enablement Manager stated, "One of the key factors of the new Infinidat Partner Program is InfiniVersity – Sales and Technical Enablement & Accreditation Program –continuously adapting to the most demanding customers' requests to provide the right tools for the partner to build a solid strategy based on the portfolio and alliances with other technologies (traditional and new ones). The success for the partner is guaranteed since the new Partner Program shields the Infinidat 100%-channel-strategy commitment with training sessions, incentives, support, etc.. in order for them to inherit those Infinidat brand capabilities that have been awarded during the last decade".
Mr. Praveen Singh, Director Sales, ASBIS ME said, "This year 2022 was beneficial year for ASBIS value division, Partners like Infinidat, definitely a step in the right direction of success. Infinidat is leading in enterprise storage solutions. With Infinidat, we continue to transform one-time clients into trusted business partners."