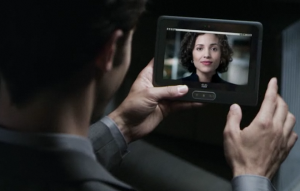 In an attempt to move beyond the desktop, Cisco is updating two of its enterprise-level collaboration tools.
At the Cisco Collaboration Summit in Miami yesterday, the company announced it's rolling out updates to both WebEx, a suite of collaboration-focused applications, and Jabber, a communications application. With the changes, Cisco is looking to help workers collaborate from anywhere and on any device, representatives said.
"We're trying to redefine the telepresence experience," said Michael Smith, a Cisco spokesman. "You can extend your investment from telepresence being something you do when you're sitting in a room to something you can do wherever you are."
There are several changes to WebEx, which will get Cisco's telepresence service. According to Cisco, that means presenters now can see their meeting participants.
The company also said that it has added a one-click feature to WebEx that lets users connect to Cisco telepresence meetings from their Apple and Android smartphones.
Telepresence is a technology that enables two separate rooms and the people in them, to appear as one room, making it look as though people in separate locations are having a face-to-face meeting, Cisco said. Previously, users had to physically be in a room set up with telepresence equipment.
Now, Cisco is working to let people use telepresence from their home office or even a hotel room with their Apple and Android devices.
As for the upgrades made to Jabber, Cisco added a plug-in that also gives users telepresence capabilities, along with the ability to make an audio call or video call from just one click within the platform, it was reported. These new Jabber features work from Apple, BlackBerry, Android, Nokia and Windows devices, according to Cisco.
"Say you're travelling and you're on your PC sitting in your hotel room," said Smith. "You cold use an application and suddenly a colleague sees you're available so they call you. The productivity I get is huge. Now if I'm a couple of time zones away, people can still reach me as if I'm still in the office."