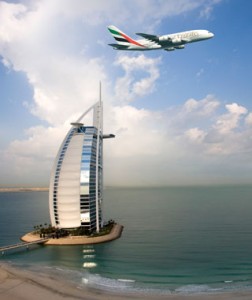 Emirates Group has standardised on Red Hat's JBoss SOA Platform's ESB and JBoss Enterprise Business Rules Management System (BRMS) to create its Open Travel Platform (OTP), according to an announcement today by Red Hat.
The Emirates Group's new Open Travel Platform is expected to deliver substantial cost savings, thus earning the Group the prestigious 2011 JBoss Innovation Award in the "Carved Out Costs" category, the company said.
The Emirates Group, comprising Emirates Airline, dnata and subsidiary companies, has more than 57,000 employees worldwide and sought a service-oriented platform based on open source that could service the needs of the Group and its subsidiary companies, representatives said. Across 16 projects, their goal was to reduce development and running costs, while significantly simplifying the application portfolio by eliminating redundant components and interfaces, Emirates reported.
Based entirely on open source technologies, the solution stack used to create the OTP includes deployment platforms and management environments that include JBoss Enterprise BRMS, JBoss Enterprise SOA Platform and JBoss Operations Network. JBoss ESB provides the backbone for OTP's composite services and their integration, Red Hat said.
The JBoss ESB allows the OTP's applications to interoperate with vital travel related services, including the global distribution system (GDS), suppliers and hotels and according to Red Hat this delivers reliability and optimised message delivery, as well as enabling the addition of new suppliers and back-end systems without modifying the client applications.
Red Hat's Consulting team was involved from inception and throughout the project's deployment, providing on-site support for tools evaluation, performance testing, architecture review, production infrastructure review, and production readiness, the company said. In addition, Red Hat Training  successfully transferred  knowledge to Emirates' IT team.
In 2011, the mission-critical OTP launched with success, with the first application providing more sophisticated travel planning and booking services via the Emirates Group's Internet booking engine, www.emirates.com, it was reported.
"We worked closely with Red Hat to execute our vision and strategy, ultimately achieving tangible results," said Neetan Chopra, VP of Strategy and Architecture, Emirates Group Information Technology. "Red Hat's solutions and services team provided exceptional consulting and helped us to successfully execute our SOA project within the timeframe and quality levels needed. We also benefited from training that ensured we were up-to-speed and comfortable with the new OTP solution, including its key components, JBoss Enterprise SOA Platform and JBoss Enterprise BRMS. We expect open technologies and standards to flourish in the future and now is the time to explore and take the plunge into an open source IT estate."
"Red Hat is delighted that Emirates Group selected JBoss Enterprise SOA Platform and JBoss Enterprise BRMS to meet the high performance demands of the new OTP," said Craig Muzilla, VP and GM of Middleware Business, Red Hat. "This open source initiative based on Red Hat technologies will benefit the entire Group, including dnata travel service and Emirates' market-facing business, Mercator, giving it the necessary agility to react quickly to emerging business opportunities and further fuelling the success of the Emirates Group."