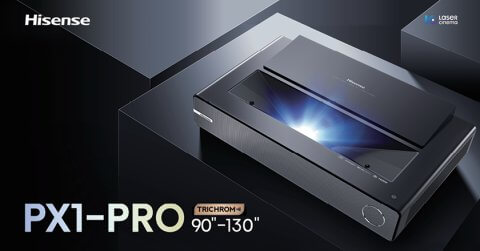 Hisense, one of the largest consumer electronics and home appliances manufacturer globally, has launched its next generation of immersive entertainment with the Hisense PX1-PRO TriChroma Laser Cinema. Unveiled to much acclaim at this year's Consumer Electronics Show (CES), the world's most influential technology event, Hisense's newest TV is available across the Middle East region now.
Built for home theatre, the PX1-PRO features the award-winning TriChroma laser technology to bring true-to-life picture quality with increased colour accuracy and vivid imagery for an experience of colours like never before. It comes with smart features like smooth motion for uninterrupted viewing, game mode for a grin-inducing gaming experience, Android OS that offers an incredible range of content and streaming options, eye friendly design and sensors that comes with low blue light emission to protect your eyes and most importantly it adopts ultra-short throw technology to generate a super large screen image on the screen as well as on the wall to ensure a best-in-class home theatre experience.
"As a brand, we strive to bring new technology to the region", said Jason Ou, Hisense President for the Middle East & Africa. "We are proud of our achievement in the Laser Cinema segment, and we continue to upgrade our technologies by introducing premium range products that can provide customers with a superior viewing experience".
Delivering an unforgettable experience for home theatre enthusiasts, the TV also includes a powered digital lens focus system, enabling razor-sharp images in sizes ranging from 90 to 130 inches diagonal. Customisation options include the flexibility to use an existing screen, be it a new or existing home theatre system.
With pure red, green, and blue lasers, the PX1-PRO reaches more than a billion colours and features 4K resolution, a 60Hz native refresh rate, Dolby Vision, HDR10, and Filmmaker Mode. Along with premium audio features such as Dolby Atmos playback and WiSA Ready capabilities, as well as ultra high-speed HDMI ports to support eARC and auto low latency mode, the PX1-PRO offers premium entertainment options for the entire family.
Hisense recently unveiled a three-year strategic blueprint to accelerate growth, business, and brand development throughout the Middle East and Africa, of which new product availability and competitiveness is a premier pillar.
"Over the next three years, Hisense will continue to build brand equity with market-leading technology and products", added Mr Ou. "We will raise awareness through various marketing initiatives and improve the current business infrastructure, establish dedicated production bases and research and development centres to expand the service network, and launch additional brand stores across the MEA region. It will be a busy and exciting time".
The Middle East has become one of the fastest-growing markets for Hisense and forms an integral part of the brand's globalisation strategy. The company's presence in the region has grown above all courtesy of strategically developed products, which correspond to the needs of the local population. Last year, participating in the global sporting event of FIFA, have given an acceleration of brand visibility and this year, the brand is looking forward to making bigger announcements in terms of brand initiatives.