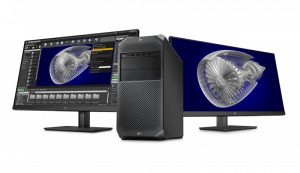 At SOLIDWORKS World, HP has announced it will power its bestselling performance workstation, the HP Z4, with a choice of Intel Xeon or Core X processors and support dual extreme graphics. HP's latest technology was showcased at SOLIDWORKS World, where it also unveiled its low-cost, full-color 3D printers, highlighting the company's comprehensive end-to-end solutions for product developers.
"The revamped Z4 workstation, along with our latest HP Windows Mixed Reality Headset and new customer-friendly VR solutions and services, will transform the way products across industries are developed," said Gwen Coble, director, Workstations, Thin Clients, Retail Solutions and Immersive Computing, EMEA, HP Inc. "Over the past year, HP has launched the world's most powerful workstation, the most powerful detachable PC and the first-ever professional VR backpack. This reflects our focus on continuously raising the bar with a portfolio of workstations and VR capabilities that will enable amazing new experiences and define the future of computing." 
The HP Z4 Workstation, ideal for engineering, simulation, rendering and virtual reality (VR), delivers compelling performance for a range of applications. The HP Z4 Workstation can easily handle tasks that require high frequency processing, multiple CPU cores and dual high-powered GPUs. Besides the workstation class Intel Xeon W processors, the Z4 Workstation can be now configured with the Intel Core X processors available with up to 18 cores and up to two extreme graphics GPUs for disruptive performance and productivity. Developed with simulation-based design and VR content creation as key target use cases, users can move seamlessly from design, to simulation, to visualisation. 
HP also showcased the HP Windows Mixed Reality Headset – Professional Edition. This VR headset delivers an immersive experience due to 1440×1440 resolution per eye and up to a 90Hz refresh rate. Users will enjoy the six degrees of freedom, no tracking boundaries and the included wireless motion controllers. For businesses, this headset is the perfect combination of comfort and convenience as it comes with easy to clean, replaceable face cushions. It also uses a double-padded headband, easy adjustment knob, and front-hinged display for an optimal experience for one or more users.
HP also shared details on the HP VR Launch Kit for Unreal Engine. The VR kit was created to accelerate decisions by streamlining VR development for design visualisation. It enables users to quickly determine optimal computer configurations, save days in VR preparation with Datasmith, which automates the optimisation of 3D engineering assets for Unreal's development environment, and turnkey common interactions including parts explosion and model cross-sections. The HP VR Launch Kit for Unreal Engine, a suite of tools that is based on Unreal Engine, was developed for businesses by HP, Intel and Epic Games.
New products that recently joined HP's comprehensive end-to-end hardware solution for product development include HP Z Desktop Workstations, the HP Z8 Workstation, new HP ZBook Mobile Workstations, the HP ZBook x2; and the HP Z VR Backpack.
HP Z4 Workstation with Intel Core X processor will be available in EMEA in March starting at €1,500. The HP Z4 Workstation with Intel Xeon processor is available now in EMEA starting at €2,000.
HP Windows Mixed Reality HMD – Professional Edition is expected to be available in EMEA in April for €550.