Huawei reaffirms its commitment to Qatar's digital transformation goals with the inauguration of a new office in the UDC tower at The Pearl Island in Qatar.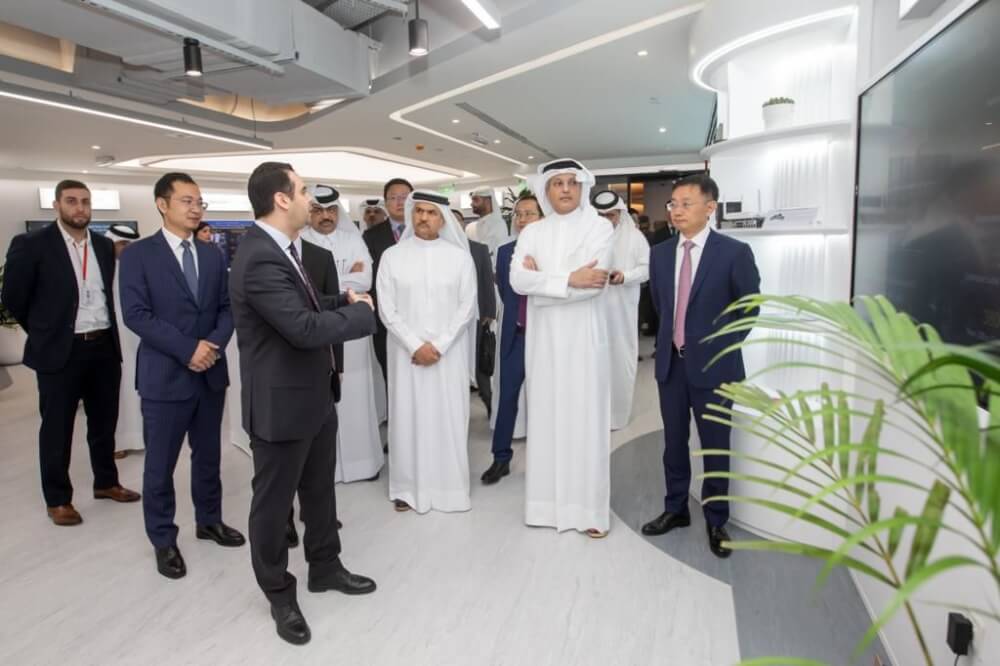 The new 4,000 SQM office will house Huawei's main Qatar operation team and will help meet the future needs of the company's growing workforce. The move reaffirms Huawei's long-term commitment to Qatar and is a milestone in the company expansion plan targeted at enhancing its presence, activities, offerings and contributions to the Qatar market to achieve its mandate to play a key role in achieving the country's digital transformation goals.
The new office inauguration was attended by His Excellency Mohamed bin Ali Al Mannai, Minister of Communications and Information Technology, and senior representatives from the Investment Promotion Agency of Qatar (IPA Qatar), United Development Company (UDC), Embassy of the People's Republic of China in the State of Qatar and Huawei management team led by Mr. Steven Yi, President, Huawei Middle East and Central Asia.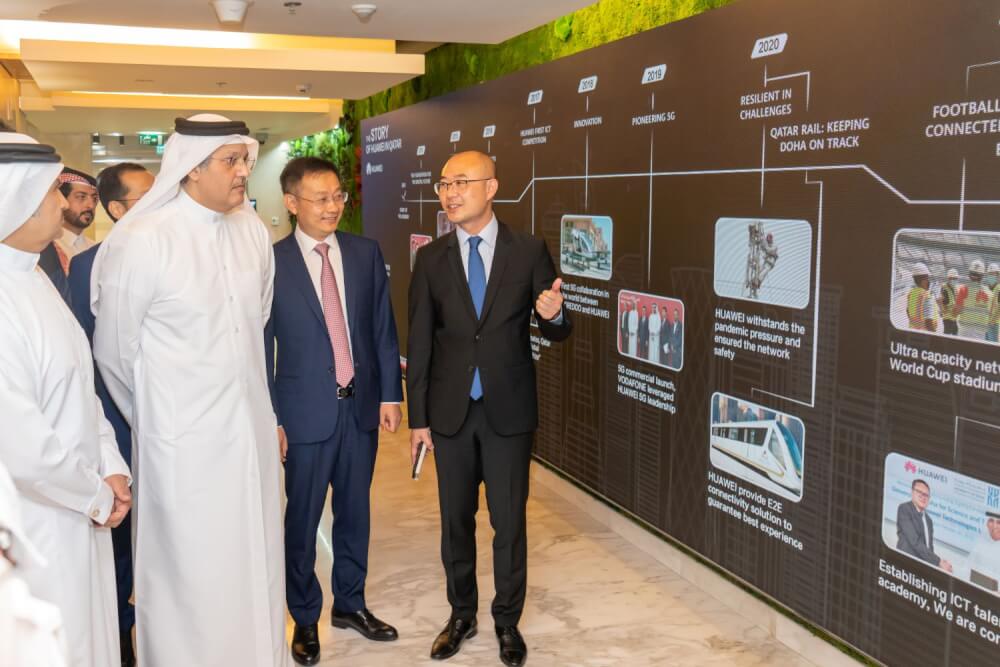 Commenting on Huawei's new office opening, H.E. Mohamed bin Ali Al Mannai said: "Huawei is considered one of our important partners and is among the top leading companies in the field of information and communication technology. I am pleased to welcome Huawei's new expansion in Qatar. There is no doubt that this will contribute to enhancing digital innovation and creating new digital opportunities in the Qatari market."
Mr. Steven Yi, President, Huawei Middle East and Central Asia, said: "Today's new office opening is a commitment to our future in Qatar. We are proud of our history in the country and Huawei will continue to support Qatar's digital transformation through its cutting-edge technology solutions. I look forward to welcoming customers, partners, visitors and Huawei team members to our new office. I am confident that this expansion will drive further recruitment of elite talent who will take the lead in achieving the goals of the Qatar National Vision 2030, towards a leading sustainable digital society."
Huawei's new office will host the company's business operations, including Carrier Networks, Enterprise, Consumer, Cloud, and Digital Power. In addition, the new office will play a critical role in managing the company's CSR programs and initiatives in Qatar, such as Huawei's flagship program, Seeds for the Future, ICT Competition, and ICT Academy. The new office will also host an exhibition centre that will function as an executive briefing centre, showcasing many of the company's products, solutions, and advanced technologies in the ICT industry.
After the inauguration, there was a panel discussion on Qatar's position as a global business hub and the role of ICT in achieving the goals of Qatar National Vision 2030 where three speakers shared their insights. Ms. Eman Al Kuwari from the Ministry of Communications and Information Technology (MCIT) discussed the current contribution of ICT to Qatar's GDP and MCIT's plans to optimize this contribution through partnerships with global technology providers like Huawei.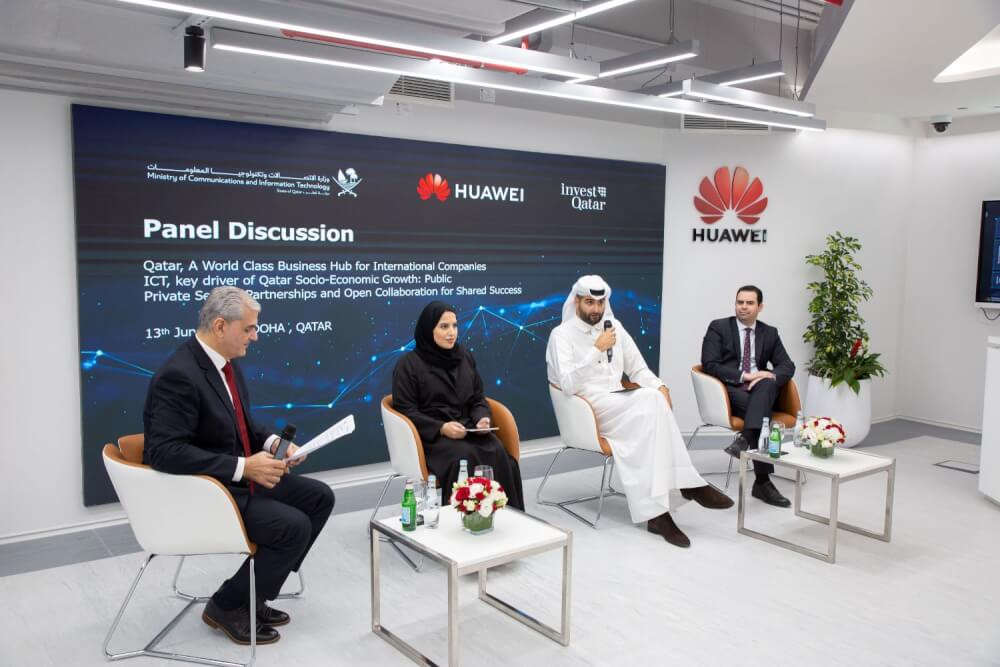 Mr. Fahad Ali Al-Kuwari from the Investment Promotion Authority (IPA) highlighted the role of IPA in attracting foreign investment to Qatar. Mr. Kamal Zian from Huawei emphasised the importance of technology providers in empowering government authorities and local partners, particularly in projects such as the World Cup and building 5G networks. The panel also discussed AI and cloud computing, the significance of attracting major global businesses like Huawei, alignment with international standards in ICT, sustainability and green energy, and the collaboration between Huawei, MCIT, and other partners in contributing to Qatar's sustainability goals.
With a seafront and Qatar skyline view, Huawei's new office has broad and open collaborative areas with natural light and beautiful landscapes. Following the curves that were inspired by the ocean waves, spaces were created to hold meetings and demonstrate Huawei's industry-leading technologies to clients.
United Development Company (UDC), the master developer of The Pearl Island and Gewan Island, signed an agreement last year with Huawei to boost the smart city characteristics by designing and integrating innovative solutions at The Pearl Island. Last year, at Milipol Qatar 2022, UDC extended its partnership with Huawei to deploy its smart campus system at the new UDC development at Gewan Island.
Huawei has been operating in the Qatari market since 2003 and currently works with both telecom providers – Ooredoo and Vodafone Qatar – serving approximately two million people in the country. Huawei is also actively cultivating local ICT talents to contribute to Qatar's ICT ecosystem. Huawei expanded its STEM and education initiatives last year through its flagship CSR program, 'Seeds for the Future', Huawei ICT Competition, and Huawei ICT Academy to further support the country's core focus on innovation.