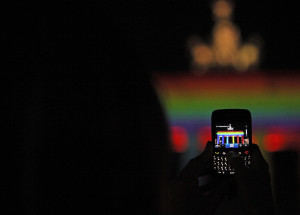 Things haven't gone BlackBerry's way this year. Following a loss of $84 million during the three months up to June 1, BlackBerry's board has formed a so-called Special Committee to explore strategic alternatives for the future of the company. But what are the options? Tom Paye reports.
It all seemed so positive at BlackBerry Live in Florida earlier this year, didn't it? New BlackBerry 10 devices were on the horizon, BlackBerry Messenger (BBM) was going to be made available on other platforms, and BlackBerry Enterprise Service (BES) 10.1 was garnering headlines.
Alas, BlackBerry's management saw their high hopes come crashing back down to Earth this summer, as the new devices missed sales forecasts and the company continued to bleed money. Only 2.7 million phones running the BB10 operating system were shipped in the quarter ended June 1, and according to Gartner, BlackBerry commanded just a 2.7-percent share of the global smartphone market in Q2.
The firm's CEO, Thorsten Heins, hoped to reassure analysts on a conference call after it was announced that the company was looking at strategic alternatives. "BlackBerry 10 is still in the early stages of its transition. In fact, we are only five months in to what is the launch of an entirely new mobile computing platform," he said.
But the analysts weren't fooled, and Bill Menezes, Principal Research Analyst, Gartner, has painted a much bleaker picture of what's happening at BlackBerry.
"We've seen for some time that BlackBerry was struggling. This latest move seems to be the company coming to terms with the idea that its days as a standalone enterprise in its current form are drawing to a close and that it cannot be a viable competitor without a significant structural change," he told CNME.
Heins' assertions that BB10 could still yield results aren't soothing many brows, then. It may only be nine months since the operating system was officially released, but Wall Street is impatient and customers are fickle — things like being able to offer a strong app ecosystem needed to happen much quicker for BlackBerry. And while its market share continues to plunge, the likes of Microsoft are moving up in the ranks — Gartner recently said that Windows Phone made up 3.3 percent of the smartphone market during Q2.
Initiatives like making BBM available on Android and iOS are being further scrutinised. And some analysts have called into question the firm's decision to relinquish one of the unique selling points of the BB10 platform. For his part, Menezes believes that the strategy was based on reasonable assumptions, but it's far from clear if the company will see any benefit from it.
"BBM has long been one of the most popular features of the BlackBerry ecosystem; the company is making a reasonable bet that iOS and Android users, once they try it, will flock to BBM instead of the horde of other widely deployed messaging apps, such as WhatsApp or Skype," he says.
"Whether this helps the company in a material way depends on how it plans to monetise BBM on the other platforms, and whether iOS Messenger, WhatsApp and Skype users see any compelling reason to change to BBM."
Meanwhile, Ray Wang, Principal Analyst and CEO, Constellation Research, believes that, once upon a time, BlackBerry really could have cashed in on making BBM available on other platforms.
"It was an excellent move — just five years too late," he told CNME.
BlackBerry is even being sourly tested in the enterprise world, where it is still seen as a reasonably strong brand. In the last issue of CNME, our editor, Ben Rossi, opined that BlackBerry could make a name for itself as an enterprise mobility firm. Wang agrees that BlackBerry could "focus on enterprise mobility, security and access."
But Menezes reckons that even enterprise customers can't save BlackBerry in its current form.
"While BlackBerry still enjoys a large global customer base amongst enterprises and governments, many of Gartner's corporate customers have clearly removed BlackBerry from their primary consideration set as users have requested iPhones and Android devices as their company-provided or -funded smartphone. Its share of new sales into the enterprise does not appear to be any better than sales to consumers," he explains.
Meanwhile, even traditionally favourable markets such as the Middle East have come down hard on BlackBerry in recent months. Yes, according to Gartner, BlackBerry is still one of the top five smartphone brands in the Middle East, commanding around 7 percent of the market in Q1 compared to just 2.3 percent of the US market. But in terms of overall mobile phone sales (including feature phones), the firm's Q1 market share totalled just 1.8 percent. At the time of writing, the Q2 results hadn't yet been broken down for the Middle East, but even if there was a marginal improvement, the numbers are hardly encouraging.
BlackBerry is enduring something of a perfect storm, then, and with no break in the clouds on the horizon, it's easy to see why analysts have shown concern. But what can BlackBerry do now that it has effectively acknowledged there are problems?
The committee formed by Heins et al is said to be considering joint ventures or even the sale of the company. And according to Menezes, the firm faces hard choices whatever it decides to do.
"Sales figures appear to indicate that BB10 devices have not in fact caught on in a number of key markets such as the United States. Realistic options include those contemplated in assessing strategic alternatives, including a break-up of the company's primary businesses (hardware, software solutions and services, patent portfolio) or a buy-out in its entirety by a suitor that can sustain BlackBerry while working to ensure the viability of some or all of those businesses," he says.
Wang's diagnosis of the situation is even bleaker. According to him, BlackBerry needs to look at any option it can in order to stay afloat. He explains: "After years of running the company into the ground and not listening to the advice of even its own employees, they have to look at all options."
Any of these options come with a multitude of perils. What's more, until something is decided, BlackBerry's fortunes are unlikely to get any better — analysts like Menezes and Wang are warning customers and investors to monitor the situation closely. Sure, stocks surged by more than 10 percent when it was announced that Heins had formed the strategic committee, but that's hardly an indication of the long-term outlook.
"The fact that it is announcing plans to explore new alternatives, rather than identifying a strategic transaction or partnership, means the period of uncertainty about Blackberry's prospects will continue for some time," Menezes says.
In the meantime, BlackBerry has made some encouraging announcements. Not long after the firm was said to be mulling serious strategic changes, it launched the 9720 smartphone running the BlackBerry 7 OS. The device is a bid to stay relevant at the lower end of the smartphone market. And with sales of BB10 devices sluggish, the company is still dependent on the old operating system, so it makes sense to release updated phones running it.
That said, the 9720 is hardly going to solve BlackBerry's problems — if it does anything, it might just keep uncertain investors at bay. But according to Menezes, Gartner's current sales forecast doesn't anticipate any significant change in BlackBerry's market share over the remainder of 2013. And Constellation's Wang expects "continued declines and more punishing sales revenues as more corporates continue to drop [BlackBerry devices]."
However, Heins might be able to hold off criticism just long enough to pull something out of the bag. In a statement after the special committee announcement was made, the CEO still managed to convey a sense of optimism.
"We continue to see compelling long-term opportunities for BlackBerry 10. We have exceptional technology that customers are embracing, we have a strong balance sheet, and we are pleased with the progress that has been made in our transition," he said.
"We will be continuing with our strategy of reducing cost, driving efficiency and accelerating the deployment of BES 10, as well as driving adoption of BlackBerry 10 smartphones, launching the multi-platform BBM social messaging service, and pursuing mobile computing opportunities by leveraging the secure and reliable BlackBerry Global Data Network."
Unfortunately, Heins' words give the impression of plugging an oil leak with a sticking plaster — BlackBerry needs much more than positive words to survive.