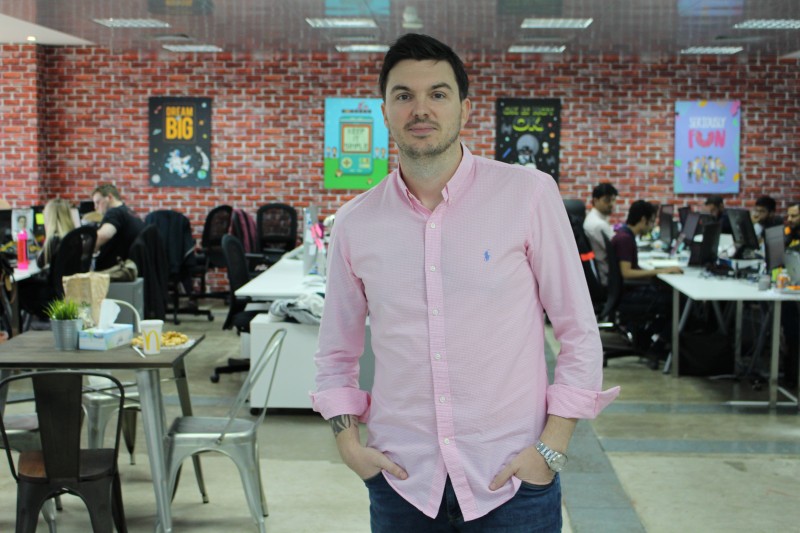 Jon Richards always had a problem with authority. Beginning full-time work aged 17, he now finds himself in the hotseat as CEO of UAE-based comparison site Yallacompare at the relatively tender age of 33.
"When I started my first job, I knew within a month that I should have been running that company," he says. "I didn't have the tools or skills to do that at the time, but I knew that I could acquire them. I always said I'd rather run a food truck than work for other people. If you have a manager, there has to be some give and take, which I honestly don't like."
That uncompromising attitude has helped Richards to build out a company that now processes more than 70 percent of online insurance sold in the UAE, and he is relishing the challenge of running a dot-com disruptor. "Starting younger is sometimes useful as an entrepreneur, especially if you're not married and don't have kids; you can probably afford to be a bit more gung-ho if you live at home with your mum," he says. "I still put in a solid 15 hours a day, but I would probably just sleep at the office if I didn't have a wife and daughter to go home to. Being flexible is key to running a startup and staying alive."
Moving to Dubai in 2011, Richards was far from impressed at what some of the region's most prominent brands could offer in terms of their digital user experience. "Banks had one-page websites, no product information, nothing really," he says. "As a newcomer to the city, I needed to know basic information about banking services – which one had the lowest FX rates, things like that – and there was no resource for that."
Disheartened by the lack of concise information available to consumers, Richards spied a gap in the market that he was ripe to exploit. "My wife had worked for a comparison site in the UK, so those platforms were second nature to me," he says. "I felt that a comparison site would be the most disruptive and easiest to launch quickly. Comparisons of banking products offer very little barrier to entry. All you need to do is produce a website, then meet banks to discuss your ability to market their products."
Richards did exactly that, and swiftly on-boarded a range of deals to the all-new platform, compareit4me.com (the firm has recently rebranded to Yallacompare.com). The new site was a hit, and soon branched out into insurance comparison services. However, tapping into a new industry inevitably dictated a shifting of the goal posts. "To be honest, we had no knowledge of the insurance market and had to build it from the ground up," he says. "That was hard work. Unlike in the UK, there were no white label products that we could take off the shelf and modify."
However, the service quickly took off in the UAE, and Richards believes that the proposition of comparison websites was and is not a hard sell. "Whatever your mindset, very few people need convincing of the idea of saving money," he says. "Most people would accept the ability to save time or money on anything in their life. When it comes to buying car insurance, people want it to be easy, cheap and to get the best possible deal. Our users save 400-600 dirhams on average per policy, and for a customer, that's a lot of money. In the UK, you'd have to fight tooth and nail for 50 quid."
Since Richards arrived in Dubai six years ago, organisations in the public and private sectors – broadly speaking – have put an increasing emphasis on enhancing digital experience for their customers, and he believes real progress is being made in the UAE's digital industry. "A lot of businesses across the region are waking up to the fact that if people are able to buy your products online rather than going into a physical store, it's much cheaper for the company," he says.
He believes the rising number of skilled IT professionals is playing a major part in the enhancement of technology services. "Bringing digital talent to the region has moved things along well," he says. "There are now a lot more skilled technology professionals coming over from the likes of Egypt, Jordan, Lebanon and India, and the digital industry in the UAE is largely run by those nationalities."
Within Yallacompare's walls, meanwhile, Richards' is committed to driving a common-sense approach to technology that is based on necessity. "We prioritise our investment around technology based on what will help the customer," Richards says. "What helps them, helps our bottom line. We have to look at what will save us money, and what will help the customer to save time and money."
He also believes that firms should strive to deliver a smooth customer experience. "If you look at Vox Cinemas, they offer discounts before you even buy a ticket, and that makes the whole process simple. That won't change the world, but it makes life easier for customers. That's what we're always trying to do."
While Richards is a firm believer in evolving the company through technology – Yallacompare is "currently developing a bot" – he is nonetheless dismayed at superficial projects across the GCC that ultimately serve as little more than extravagances. "Banks in particular roll out some absolute technology gimmicks, which are just there to create PR," he says. "Sometimes the best answers around technology may seem too obvious, and that's why people won't pursue them. Our call centre gets upwards of 1,000 calls a day, which proves that people still want to speak to a human being."
Yallacompare's website is also due to receive a major refresh, with Richards acknowledging that technology consumption has forced the firm to rethink how it delivers its service. "The way we sort insurance products hasn't fundamentally changed, but in a mobile-first world, a straight-up list is not really digestible for a user," he says.
With an expected go-live of the end of 2017, the "building out" of operations in Saudi Arabia is also well underway. All local insurers are set to be connected via APIs in the Kingdom. "This will allow them to change pricing on the fly," Richards says. "That means that quotes and issued policies will come via the API, so it's an end-to-end technology-led process without human intervention." However, Richards concedes that growing the company in the GCC has brought its own challenges. "Expanding regionally in the Middle East is so different to expanding nationally in the UK. You have to go country by country, instead of city by city."
A quick glance at the UK's insurance comparison market reveals a landscape with multiple competitors jostling for the attention of users. However, Richards believes the threat of similar alternatives emerging in the UAE is nullified by Yallacompare's solid start. "We were the first company in the Middle East to aggregate insurance products and sell them online," he says. "More than 70 percent of online insurance sold in the UAE goes through us as a result. That number will only grow, because the number of policies sold online today is still relatively small. Bank websites now have all the necessary rates, information, blog posts, advice and guides. We're not solely responsible for that but we would have given them a nudge in the right direction.
"The more that people become aware of comparison sites, the less they'll go directly to banks for information. It still baffles me that comparison sites aren't second nature to most people."