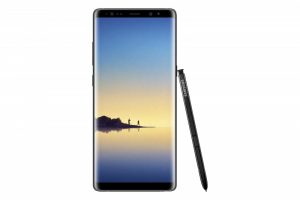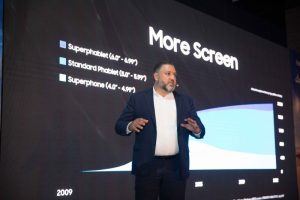 Post a difficult year of having to face questions about its faulty Note7 devices, will Samsung finally have some heat of its back with the launch of Galaxy Note8? At the UAE launch last night, Tahawul Tech speaks to Tarek Sabbagh, head of IT and Mobile (IM) Division, Samsung Gulf Electronics, to find out more.
Has Samsung been able to bounce back and change market perception with the launch of Note8?
The amount of technology and features we have installed into the Note8 signifies our commitment to our customers. We had aimed for a double number of pre-order bookings as compared to Note7, however, ended up receiving four times that figure. Also, bear in mind, this figure is after charging the complete price of the device and not just a deposit for the pre-orders.  This clearly signifies that our customers continue to be loyalists and the Note series are facilitating their lives.
Can you share the price at which the devices will be retailed for? Do you believe it is justified?
The Note8 will be retailed at AED 3399. We believe that this price is the right one, considering the premium technology embedded into it. The Note8 boasts many features such as the big screen, dual cameras and an enhanced S Pen, to name a few. We always ensure our devices are placed in the right price segments.
Can you elaborate on the thought-process of launching DeX?
DeX has been designed targeting the consumer who is always on the go. Dubai is a hub for many multinational companies and people travel all across the region and abroad for business. When travelling, you need to pack in laptop, tablet and respective cables for charging. Keeping the consumer at the centre of our innovations, we have launched DeX, which is a device that allows you to connect to a monitor, keyboard and mouse, to gain a desktop experience. We are receiving positive feedback from operators who are dealing with the SMB sector as they have seen a demand to include DeX as a part of their bundle offerings.
Samsung has also launched the Gear VR headset along with the Note8. How is the adoption of VR solutions been within the region?
Virtual Reality has been developed considerably in the region. Our VR offering is in partnership with Oculus, who is investing heavily into this technology. Many industries are using VR related solutions such as healthcare, travel, real estate within the region. The use cases are developing and we are investing a lot in having more applications that can be used with the technology. We have also introduced a small device, which will help consumers to control VR in a better way. We are making a big pack of games and applications available with this offering. Although VR is futuristic, it is well perceived within the region.
Which feature of the Galaxy Note8 you believe could convert iOS users?
In technology, there is nothing called one-size fits all. Different consumers find different features appealing. For us, the enhanced S Pen is the heart of the device. With so many features installed into it, the S Pen is a smart tool by itself. Our job is to deliver the latest technology to consumers.