The Abu Dhabi Smart Solutions and Services Authority (ADSSSA) has announced that it has signed a memorandum of understanding (MoU) with Microsoft to establish a 'Cloud centre of Excellence' that will aim to build its capacity for the delivery of cloud services and platforms, as well as upskill the emirate's public sector workforce.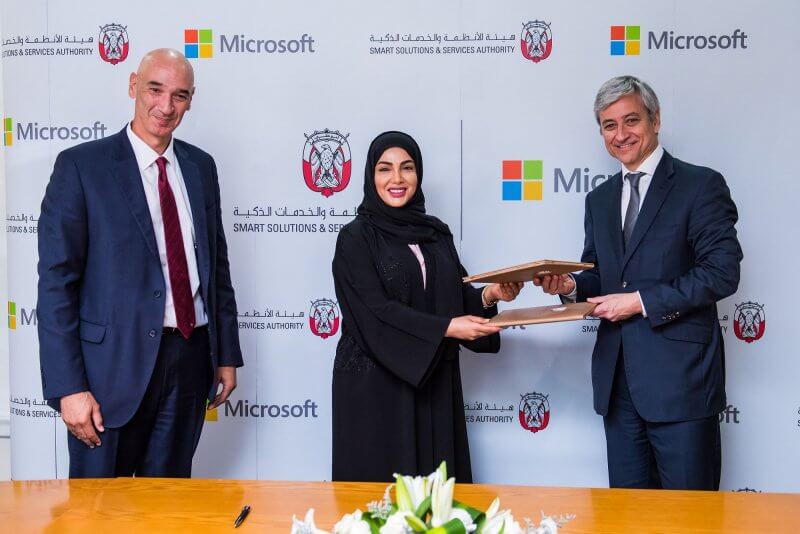 This partnership is aligned with ADSSSA's strategy and ongoing commitment to drive Abu Dhabi's digital transformation and adoption of emerging technologies.
The MoU strengthens the collaboration between ADSSSA and Microsoft, whose cloud infrastructure serves more than a billion customers globally and follows Microsoft's recent announcement of choosing United Arab Emirates for their first Middle East cloud data centre.
"This partnership represents a new step towards driving digital transformation in the Emirate of Abu Dhabi, consolidating its global position in technology and developing innovative solutions," said Dr Rauda Saeed Al Saadi, Director General of the Smart Solutions & Services Authority. "In line with Abu Dhabi's 'Ghadan 21' plan, the Emirate aims to provide government institutions with qualified human capital and the ability to deal with the best digital solutions and advanced technology to provide the best services. The Authority also seeks to strengthen its partnerships with leading companies in the field of modern technology to better integrate government agencies and enable them to provide innovative services that contribute to the government's progress. "
Microsoft's collaboration with ADSSSA will focus on the establishment of a Cloud Centre of Excellence. Under the agreement, Microsoft will provide instructor-led training for 240 government employees from various departments and agencies. The training will be distributed across 11 tracks, and will encompass all Microsoft skill levels, from 0 to 300. Instruction will ensure that Government of Abu Dhabi employees are well-versed in such technologies as Microsoft's Azure cloud platform, Office 365, Data, AI and Dynamics 365.
Through Cloud Society in Box, Abu Dhabi Government employees will receive access to an online training portal hosted on ADSSSA Azure Tenant that can be customised to assign and track training paths. Microsoft specialists will be on hand to deliver regular support to all training delegates and guide them on their upskilling journeys.
Abu Dhabi Government employees across agencies and departments will be introduced to a new collaboration platform built on Microsoft Teams and Yammer, allowing them to share success stories, best practices and technical resources.
"Microsoft has been a steadfast partner in Abu Dhabi's digital transformation journey," said Jean-Philippe Courtois, Executive Vice President and President, Global Sales, Marketing and Operations, Microsoft. "The opportunity technology presents to engage citizens, empower public servants, optimise operations and reinvent service-delivery models is unprecedented. We have also been a fierce proponent of upskilling and reskilling, at all levels of society, to prepare for our shared digital future. Our collaboration with ADSSSA will further drive digital transformation across government departments as well as spur economic growth and accelerate Abu Dhabi's vision and objectives."
As part of the collaboration, ADSSSA will render support by providing training courses for all employees of government agencies in the field of information technology in order to develop their capabilities and potential, and provide innovative technological services to enhance performance and government excellence.