Cloud4C has recently hosted a webinar, which featured IT leaders from reputed organisations in the Middle East who shared their experiences and views into how businesses can navigate the COVID-19 pandemic.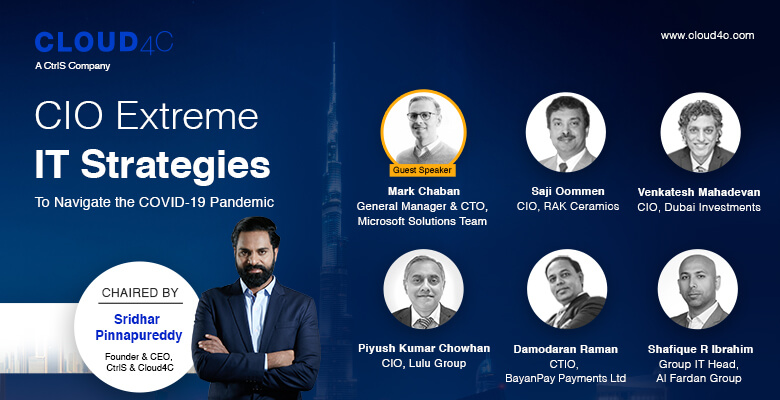 It is obvious that the world has entered a new normal and the work culture has changed irrevocably. For a CIO, business continuity has been tested like never before. As they will be called upon more and more to enable businesses to adjust to the new normal, they will face some of the toughest challenges.
So what are the main concerns of a CIO during these turbulent times? How do we measure employee growth and productivity? Do we, and how do we conserve cash for our businesses? How should we prepare for the future post Covid-19?
During a recent webinar on CIO Extreme IT Strategies to Navigate the COVID-19 Pandemic conducted by Cloud4C, IT Leaders from reputed organisations in the Middle East participated as panelists and shared their experiences and views.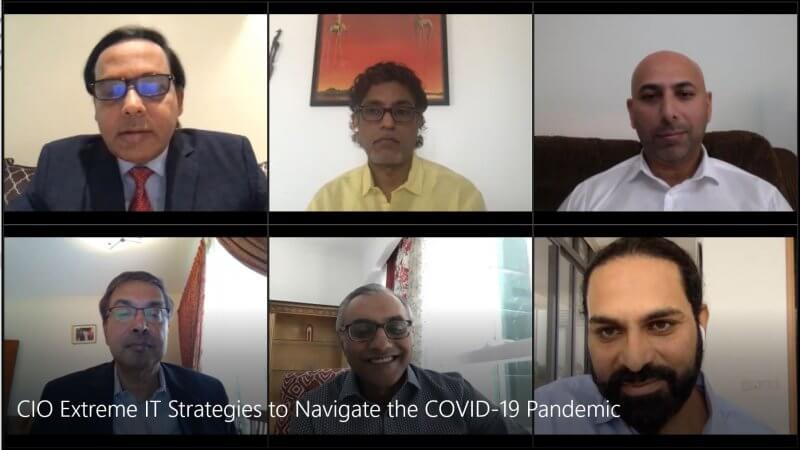 Shafique R Ibrahim
Group IT Head – Al Fardan Group
These are testing times for all businesses, and especially for the IT departments of those businesses. We may be in different boats, but we are all in the same storm.
For us, this has also been an opportunity to prove IT agility. We had to respond to the overnight call to activate certain functions for work-from-home. We did have a simple framework for work-from-home, but certain functions have been confined to the office environments as part of our policies for the highest security. In this crisis, we were asking our employees to connect from public networks, and perform critical sensitive functions.
Naturally, we were concerned about their security of the networks they would access organisational data from. Our IT teams were able to pull it off even under trying circumstances and equip hundreds of employees to work from home without compromising the least in terms of security.
Initially, our business had to comply with the lockdown announced. But it did not take long for the authorities to appreciate that remittance is not a luxury but a necessity. Even when our customers are confined to their homes, they would need to be in charge of their finances, to be able to spend or send as they want. So we were permitted to operate our branches where we were ready to serve our customers.
But then we realised that our customers would not be able to reach our branches either. Locals were finding it difficult to commute without public transportation. We quickly empowered our teams to become mobile. They could reach our customers where they are, and visit the camps to help them. This was a new requirement in response to the situation, but we were able to leverage technology and find a solution. We could now help our customers remit money to their homes as and when they wanted.
The IT department is the one that ensures that all other departments are working. But the fundamental and the functional role itself is changing. Maybe at the beginning of the evolution, the IT department would just point out the blinking light, but now, in the current iteration, it has to be competent enough to identify the issue and solve it. The point is that it is no longer about just managing the infrastructure but about enhancing businesses with relevant and specific IT knowledge.
Another aspect of the post-pandemic business landscape has been the focus on bringing down costs. True, spending will become more conservative, but IT investments will increase on the whole.
According to us, we will see greater focus on business decisions driven by cost optimisation rather than on infrastructure. Even as our employees work from home in the near future, we want to ensure that our customer experience is uninterrupted. They should be able to access and manage their money completely safely.
Piyush Kumar Chowhan
Group Chief Information Officer at LuLu Group International
Our large retail group has two verticals: Supermarkets/ hypermarkets and hospitality/ malls.
Supermarkets are deemed essential services since they have to be available to the public to access their daily needs. As such, we had to keep the business running smoothly even in the face of weak supply chains, restricted resources, uncertain transport, etc. For us, the challenge was not just the functioning of the organisation but also maintaining uncompromising standards of employee safety without interrupting our services. Forecasting warehouse stocks for food in the new normal has also become a new exercise.
We had to increase our warehousing capacity by over 30% overnight. Stocking them required mobilising flights from all over the world within tight timelines, and coordination with multiple organisations and governments. We were able to pull it off successfully only due to the agility of our technology, and also our people.
Overnight we came up with new SOPs for sanitisation, customer interaction, and more than 12 other such initiatives to restore our customer confidence to shop safely with us. Even these small steps required a lot of behind-the-scenes preparation and adaptation from our employees.
For employees, we rented laptops that they could carry home so there wouldn't be any disruptions to business continuity. We upgraded our network solutions, security policies, and even VPNs to ensure that we are completely in compliance with the regulations.
From the industry perspective, this situation can also be an opportunity to prioritise digital transformation at every level. The focus should be on moving to open source, nimble architecture that reduces dependency on legacy infrastructure. With time, expenditure on legacy infrastructure has to be tapered off, so that there will be greater investment in new technology and solutions that will accelerate digital transformation.
Priorities will be on investing in new technology, and chart a new roadmap to business that will focus on value optimisation for digital transformation.
Saji Oommen
Chief Information Officer at RAK Ceramics, UAE
In terms of productivity and security, work from home is a novel experience for all of us. I am not sure how it is for small teams, but when you have a team of 1500 people working from home, you need a new set of solutions that are specific to this scenario.
Our first strategy has been to deploy additional security and DR solutions that are equipped to deal with global security concerns. We are now experimenting with AI & ML technologies for security that will help us monitor threats and mount effective defense. Moreover, our businesses are present across different locations, involving multiple geographies and regulations.
Another interesting thing we would like to add is how we extended our solutions to our customers as well. Our internal teams were able to use MS Teams to minimise disruptions in our organisation, and other teams also came up with interesting solutions.
Departments such as call centers were reorganised and retrained at very short notices, we trained people to take up new responsibilities. For example, our sales people were on the IVR with CRM-installed tablets to take down orders. Within 2-3 days, we updated our B2B portal to be able to share images with customers. We also added a visualisation program so they can get a real-life idea of how the real estate looks like.
These strategies helped us keep our sales going. We were able to convert enough leads to orders, as well as strengthened our fulfilment center with additional technology.
Our teams devised and deployed multiple solutions like this within days. The positive aspect of this crisis is the test of our agility, and that we were able to successfully come up with a strong business continuity plan.
Damodaran Raman, 
Chief Technology and Innovation Officer, Bayanpay, Saudi Arabia
Startups usually function on limited resources and bandwidth. And the pandemic situation has had a significant impact on the resource crunch on a daily basis. As compared to enterprises, startups will face greater risks and stronger challenges.
As a fintech organisation with a wallet, there are additional security responsibilities. We have to ensure that the money that our customers have trusted with us is completely secure. It is not just about storing money but also ensuring that the transactions are safe. We put the focus on revamping security at every level of the customer ecosystem.
Security, which has always been central to our plans, is now even more integral at every stage of function. At our previous Look Ahead meeting, we revisited compliance and risk throughout our enterprise. Our office network is well-protected. We offered all-in-one PCs to our employees with inbuilt security, including transaction monitoring through SaaS for critical data. Even for HR, finance, marketing, we have quickly responded to the new normal by leveraging technology wherever we can. Our communication has been made more robust, adding to the in-tool security measures with 24×7 monitoring.
Even email threats are continuously monitored so there are no gaps in our security. Given the PII customer data, our security has to be extra vigilant. Even our applications, we have limited the number of changes itself, so that potential vulnerabilities are limited. Additional security features have also been deployed at the network and the device level.
Venkatesh Mahadevan
Chief Information Officer, Dubai Investments PJSC., GM-Techsource
We are a conglomerate of more than 30 companies across industry verticals, and work with tens of subsidiaries and affiliations. For us, the abruptness of the lockdown has been a challenge. It was supposed to be a limited shutdown, then it got extended, then further extended; it did not appear as a challenge at first but then it became a huge one.
We were immediately concerned with allowing our employees to work seamlessly from their remote locations. Our strategies, after multiple interactions with our C-suite executives and business stakeholders, have been streamlined today.
We are on top of the Covid-19 situation today, but more than that, we are also prepared for when the lockdown shuts. Most businesses will not be able to just open up and proceed like nothing happened; they will open slowly, with fewer resources and lesser bandwidth. What will be the most crucial aspects of business that can push the organisation ahead? That will be important.
For our subsidiaries, we rolled out our central information security framework immediately. We wanted to ensure that their basic security will be up and running, and not entirely unprotected. Data security has been ensured, even for Work-from-home employees.
Conclusion:
B2B organisations have been quick to adopt technology to enable their businesses, but it is a whole different ball game with B2C companies. They have additional challenges in delivering their services when the entire world has been forced indoors.
Yet, leaders in these organisations aren't behind in using technology. In fact, according to the panelists, they have utilised this opportunity to explore new solutions to streamline their processes and offer better solutions. Some organisations have had to reinvent new ways to even reach out to their potential customers. But with technology, they have been able to get on top of the situation while strengthening their brand.