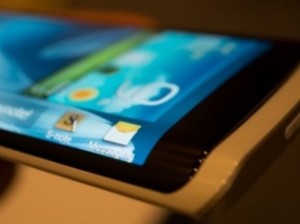 Samsung basically invented the super-sized phone with its Galaxy S series of elite handsets. But now that the five-inch display has become old hat, the Korean manufacturer has begun to experiment with new display form factors. 
Fresh off a limited release Galaxy Round (which for the record is curved, not round), Bloomberg is reporting that Samsung is planning to release a Galaxy-branded three-sided phone next year.
According to the unnamed sources, the three-sided display would wrap around the edges of the phone, so that messages could be read from an angle. The new multi-angle display would likely be first available in the Galaxy S or Note series.
The new form factor utilises a flexible OLED screen technology known as YOUM, the same used in the Galaxy Round. YOUM has also been demonstrated to be bendable and flexible – though its Round debut was in a static (if curved) form factor.
In a way, this three-sided display is a natural evolution of existing technologies – a logical successor to the LED indicator.
However, the real excitement is probably beyond phones, where this capability can lead to innovative devices that bend, roll-up, and take us into the future.