Cisco has recently presented awards to its top performing Tier-2 channel partners from the UAE, Oman, Pakistan, Afghanistan and Yemen which form part of the Cisco Middle East's – East region.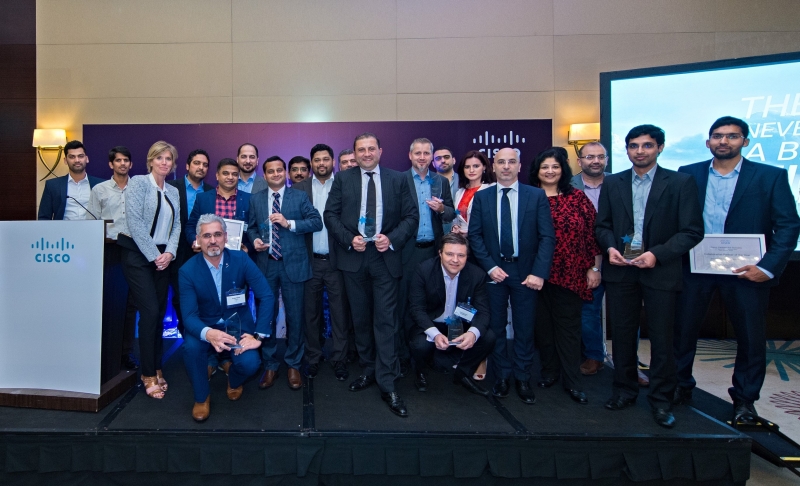 The awards were presented to the winners across 14 categories during a gala ceremony held at Fairmont Hotel Palm Jumeirah in Dubai. Over 100 delegates from the Cisco 2-Tier channel partner community attended the gathering.
"Our theme for the partner event was focused around digital transformation, which we believe presents a high value opportunity for our 2-Tier channel partners now, and in the years ahead. Cisco channel partners can leverage our leading technology solutions from an expansive portfolio to build their role as trusted advisors for enterprises looking at transforming themselves to be able to truly embrace and benefit from digitisation," said Shukri Eid, Managing Director – East Region, Cisco Middle East, during the event.
"At Cisco, we believe that great relationships produce great results and this is why we are committed to supporting our partners as they form an integral part of our strategy and growth. We take great pride in celebrating the channel partners who continuously innovate and outperform their peers in meeting their business and sales goals, as well as meeting Cisco's performance targets," he added.
The top performing Cisco Tier-2 Channel Partners for 2016 are:
UAE Partner of the Year: Intertec Systems
Oman Partner of the Year: National Telephone Services Company
Pakistan Partner of the Year: Commtel
Vertical Partner of the Year: EMW
Emerging Partner of the Year: ISYX Technologies
Services Partner of the Year: Bios ME
Public Sector Partner of the Year: DarkMatter
Enterprise Partner of the Year: Smartworld
Commercial Partner of the Year: Intertec Systems
Small Business Partner of the Year: New Trend Computer Networks
Data Centre Partner of the Year: DarkMatter
Security Partner of the Year: Help AG
Collaboration Partner of the Year: Genome Technology Consultants
Enterprise Networking Partner of the Year: Omnix International
"Channel partners in the region are being increasingly challenged to not just meet technology milestones but also to deliver to deliver on business outcomes for their key enterprise customers as they jointly transform themselves for the realities of tomorrow. Cisco's annual partner awards is a consolidation of the top 2-Tier partners who are able to meet both the challenges of reskilling themselves in a short window of opportunity and delivering solutions successfully for their key customers," said Frida Kleimert, Channel Lead – East Region, Cisco Middle East, in her address to 2-Tier partners during the event.