Dubai Electricity and Water Authority (DEWA) has signed a Memorandum of Understanding (MoU) with Dubai Silicon Oasis Authority (DSOA), to build strategic partnerships and enhance coordination and mutual support for the success of international events that highlight renewable energy initiatives and sustainability.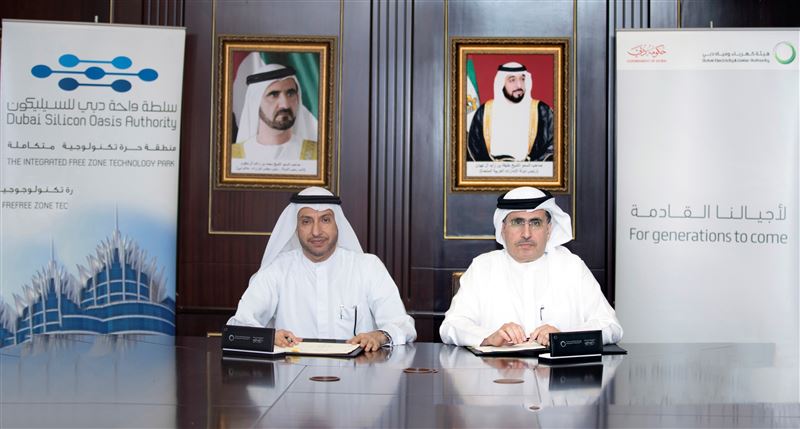 According to both organisations, the partnership supports cooperation and efforts to achieve integration among Dubai Government organisations to achieve shared strategic objectives.
The MoU included the participation of Dubai Silicon Oasis in the upcoming Water, Energy, Environment Technology Exhibition (WETEX) and the Dubai Solar Show by providing strategic sponsorship for the two major events. DEWA organises the 20th WETEX and the 3rd Dubai Solar Show at the Dubai International Convention and Exhibition Centre from 23 to 25 October 2018.
Saeed Mohammed Al Tayer, MD & CEO of DEWA appreciated the cooperation with DSOA and emphasised the importance of this partnership in supporting the international events and exhibitions organised by DEWA.
Al Tayer noted the important role of the high-tech park in encouraging modern technology-based industries and providing a comprehensive community and modern infrastructure as well as local business services, supporting joint efforts to attract international companies to expand their activities and businesses and supporting the economic development of Dubai.
He then noted that supporting the Dubai Solar Show reflects the mutual goal to make Dubai a global hub for clean energy and green economy and achieve the Dubai Clean Energy Strategy 2050.
"DSOA strongly supports the non-oil sectors that contribute to the knowledge-based economy. DEWA is a global pioneer in energy and water production, and a government entity that facilitates technology for the future of the nation. Therefore, we are pleased to support its efforts in developing technologies for a better energy sector that ensures a sustainable economy, in line with the directives and vision of the wise leadership," said Dr Mohammed Al Zarooni, Vice Chairman and CEO of DSOA.
"DSO provides the latest infrastructure and supports ongoing businesses in the technology sector. DEWA spares no efforts in researching the production of clean energy, which contributes to the UAE's minimal water and energy waste. Hence, we have the common desire to use technology in support of environmental and economic sustainability," added Al Zarooni.
The signing ceremony was attended by Dr. Juma Al Matrooshi, Deputy CEO – Operations & Client Affairs at DSOA; Muammar Al Katheeri, Executive VP – Engineering Management and Smart Cities at DSOA; Ghanim Al Falasi, Senior Vice President – People Happiness & Innovation at DSOA; Dr Yousef Al Akraf, Executive VP of Business Support and Human Resources at DEWA, and Khawla Al Mehairi, Executive VP of Strategy & Government Communications at DEWA.