Emirates has announced that it will start lending first and business class passengers free tablets, in response to the U.S. ban on electronic devices on United States-bound flights.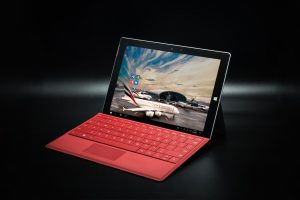 Emirates is introducing the service to mitigate the inconvenience of the ban on passengers, the Middle East airline said in a statement. The service starts today. (Wednesday 5th April)
The decision follows similar measures introduced last week by Qatar Airways and Etihad Airways, which are also affected by the ban.
The service is free and will be available on all non-stop flights from Dubai to Emirates' U.S. destinations.
For customers who prefer to stow away their personal devices, Emirates introduced a laptop and tablet handling service for America-bound customers at the end of March. This free service has been made available to passengers in all cabin classes.
To date, nearly 8,000 passengers have used Emirates' laptop and tablet handling service on the airline's 112 weekly non-stop flights departing Dubai International Airport to cities in the U.S.
The restrictions, prompted by reports that militant groups want to smuggle explosive devices in electronic gadgets, state that electronics larger than a mobile phone – including laptops and tablets – must be stowed with checked baggage on U.S.-bound passenger flights.
Industry experts have warned the ban could push premium business and first class travellers to carriers not affected by the ban.
Emirates, Etihad and Qatar Airways are also allowing passengers to hand over their personal devices immediately before boarding.