March 24, 2022: emt Distribution, announces extending its strategic Partnership with CertNexus to offer on demand emerging technology certifications and micro-credentials globally!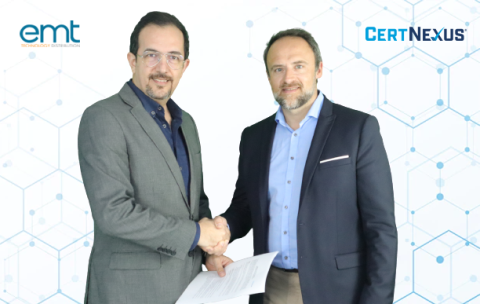 "Education have always been a focus at emt Group, we believe that we have a to play a great role globally to educate corporates staff and individual, on emerging technologies, this will help everyone to be ready for the future and to be able to play a great role in their country as well as improve their carrier path, we are so excited that we expanded our agreement with CertNexus as a strategic partner to be able to play bigger role globally, we are going to also introduce special in country offer for the governments to ease the process of educating their staff on emerging technologies like Artificial intelligence , Data Science, IoT as well as Cybersecurity", said Mo Mobasseri, CEO at emt Distribution, META.
"We have enjoyed and been grateful for EMT's distribution efforts over the past 3.5 years with Logical Operations and CertNexus education and certification products and have a strong belief that transitioning to a Strategic Partnership which is focused on delivery of Emerging Technologies and Cybersecurity educational services, will serve EMT's global customers well. At the same time, we also believe that Logical Operations engaging with wider channel of partners in the MENA region will serve them most efficiently and will enable us to invest more into their success", said James Varnham, Managing Director at CertNexus EMEA.