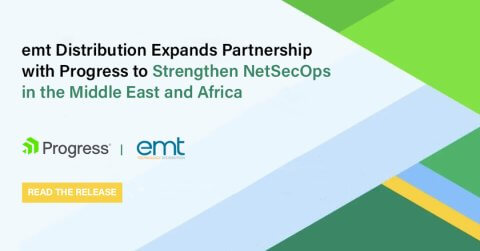 emt Distribution, a leading Value-Added Distributor that offers next-generation, cutting-edge technologies, is pleased to announce that it has expanded its partnership agreement with Progress, the trusted provider of application development and infrastructure software, to help partners and customers in the Middle East and Africa region with load balancing and network security solutions.
emt Distribution caters to the entire cybersecurity framework. Application security is one of the core components of the framework, and with the addition of Progress LoadMaster and Progress Flowmon, it can offer comprehensive availability and security of applications to our customers.
The Progress portfolio offered through emt Distribution includes the following products:
LoadMaster: Flexible application delivery and security solutions offering cloud-native, virtual and hardware load balancers.
Flowmon: Comprehensive network security and visibility solution with automated response across hybrid-cloud ecosystems.
Progress WhatsUp Gold: IT infrastructure monitoring software providing complete visibility of all network devices, servers, virtual machines, cloud and wireless environments to quickly find and fix network problems before users are impacted.
"It is with great pleasure that we extend our Progress portfolio in the region. Our partnership with Progress has been going strong since 2014 with a great number of qualified, trained and supportive channel partners in the region. By adding relevant and demanded technologies such as load balancing, WAF, infrastructure monitoring and network traffic analysis, we are sure to empower our partners even further and grow the business regionally to greater heights", said Nandini Sapru, Vice President of Sales, emt Distribution.
"We're delighted to expand our very successful relationship with emt Distribution across the META market", said Phil Dunlop, VP of Sales, Infrastructure Management, Progress. "We look forward to working with them and the emt Distribution partner ecosystem to grow market share for Progress' portfolio of NDR and network observability solutions".