Etisalat and Intel jointly organised the 'SMB Digital Cloud Conference' exclusively for small and medium businesses (SMBs) in the UAE. The event aimed at increasing the awareness on cloud services and highlighting the importance of digital transformation and its role in driving the businesses' competitive edge.
UAE today is the most digitally advanced country in the Arab world according to the 2017 Digital Evolution Index released by World Economic Forum. This is mainly due to the investments made by the government in various digitisation initiatives to build a smart and digital economy. With Etisalat's corporate strategy focusing on 'Driving the digital future', it is working closely with all its partners, including SMBs, to transform their businesses by investing in digital services and solutions.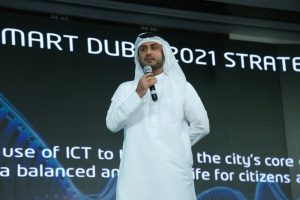 Cloud-driven thinking has become the norm in SMBs in more mature markets like US and Europe. However, the adoption of Cloud services among SMBs in the UAE is still in a nascent stage. Today's cloud platforms and applications empower small businesses to cut down costs and reduce the complexity of their IT investments. According to a Forbes 2016 global survey, 59 percent using cloud services report significant productivity benefits. In the region, SMBs are beginning to realise that cloud can be a catalyst for process improvement as well as a driver of business transformation.
Esam Mahmoud, Acting Senior Vice President, Small and Medium Business, Etisalat said: "We are proud to host the 'SMB Digital Cloud Conference' in partnership with Intel. Our objective is to gather experts onto one platform and create an ecosystem that helps our SMB customers gain insight into the various facets of cloud adoption into their business. Etisalat's next-generation cloud solutions is designed to meet the needs of SMBs by delivering scalable and robust infrastructure services including servers, storages and network from the cloud hosted in the UAE. This is a first of a series of SMB digital conferences to be organised by Etisalat focusing on various technologies and services that will play a key role in transforming this important sector."