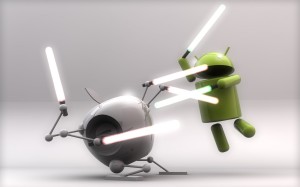 The world's love affair with smartphones continues to blaze. Between April and June, worldwide smartphone shipments grew by 52.3 percent compared to the same period in 2012, according to a new report by market research firm IDC. That's the highest year-over-year growth rate for smartphones in 15 months, and IDC says it's only to going to get bigger from here.
"The smartphone market is still a rising tide that's lifting many ships," Kevin Restivo, an IDC senior research analyst said in a statement. "Though Samsung and Apple are the dominant players, the market is as fragmented as ever. There is ample opportunity for smartphone vendors with differentiated offerings."
But how differentiated smartphone vendors can afford to be is up for debate. Taking a look at IDC's smartphone numbers, one thing is clear – success currently comes to those making iPhones and Android devices. IDC's top five smartphone vendors included either Apple or smartphone makers focused on Android.
Even going beyond the top five, the only notable phone makers on IDC's rankings are Huawei and HTC, both staunch Android makers. Some of these companies do dabble with Windows Phone devices including HTC, Huawei, Lenovo and ZTE, but Android smartphones are still the main focus.
Same old ringtone
The fact that Android and iOS dominate the smartphone market is hardly news. Symbian turned Windows Phone-maker Nokia hasn't made IDC's top five smartphone vendor list in a year, and BlackBerry has been MIA for three consecutive quarters.
Nevertheless, Ramon Llamas, IDC's research manager for mobile phones, believes there's plenty of room yet for BlackBerry, Windows Phone, or even an upstart like Mozilla's Firefox OS to take away some steam from the front runners.
Consumers may be focused on Android and iOS, but carriers still want a third alternative, Llamas says. And there's good reason for phone makers to try and break the Android-iOS deadlock beyond the hopes and dreams of wireless carriers.
Right now, many small phone makers want to ride the coattails of the big Android producers by selling inexpensive alternatives to flagship lineups like Samsung's Galaxy phones. "If you're Samsung or LG, then you're in a pretty good position [as an Android phone maker]," Llamas says. "Beyond those two, there is a veritable sea of vendors producing [Android] devices and making very little money on them, if at all."
R&D costs mixed with the heavy price of marketing an Android phone so it will stand out among all the other Android offerings makes it difficult for smaller producers to find success. That's why there may still be room for more smartphone platforms to succeed if they can gain that critical mass of users as well as significant attention from third-party app makers.
Nokia is not tallying iPhone-sized sales numbers with its Windows Phone-based Lumia line-up, but the company is at least seeing some growth. Nokia recently reported it shipped 7.4 million Lumia smartphones during the second quarter of 2013, up from 4 million Lumia devices the prior year. And the company is pushing further into the market with recent Windows Phone announcements like the Lumia 1020 featuring a 41-megapixel camera.
If Windows Phone can't succeed, perhaps BlackBerry can as it continues to reinvent itself with the touch-centric BlackBerry 10 mobile OS. Other alternatives to Android and iOS abound including Tizen,Firefox OS, and Ubuntu.
Not all the new smartphone upstarts can win, of course. But with the demand for always-connected handsets growing rapidly, there's still a chance we may see at least a third significant smartphone platform in the coming years. Who that third place winner might be, however, is anybody's guess.