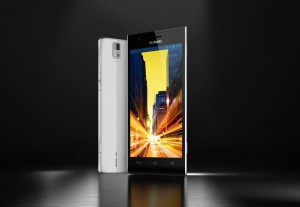 Huawei yesterday bolstered its worldwide consumer offerings with the introduction of the Ascend P2, which it dubbed the world's fastest smartphone.
The smartphone was announced during Mobile World Congress in Barcelona, where the company's business group also announced full-year global sales revenue of USD7.5 billion, a 10% increase from the previous year, as well as more than 127 million devices shipped.
"At MWC last year, we launched the product name of Ascend, and introduced a series of flagship products," said Richard Yu, CEO, Huawei Consumer Business Group. "Today at this same platform, we are strengthening the brand promise of our products with our new brand campaign, 'Make it Possible'.
"The Ascend P2 embodies that commitment and is the perfect combination of elegance and power, and further proof that there's no need to compromise when desiring a perfect smartphone. It is further evidence of the outstanding smartphone experiences and great technology that we are committed to bringing to consumers globally."
In 2012, more than 5,000 dedicated Huawei retail counters were set up in 45 countries and territories around the world. The company also recently concluded its most ambitious global product marketing campaign – 'Ascend to New Heights' – where the campaign targeted millions of consumers in 45 markets from 15 regions.
The Ascend P2 features a 1.5 GHz quad-core processor and LTE Cat 4, providing an ultrafast Web experience with download speeds of up to 150 Mbps. It is only 8.4mm thick with an infinity edge 4.7-inch IPS HD in-cell touch display with second-generation Corning Gorilla Glass.
The smartphone runs on the Android 4.1 operating system, with Huawei's own Emotion 1.5 user interface. It is Powered by a 2420 mAh battery and 1.5 GHz quad-core processor, and Huawei claimed its proprietary 'swift sharing' supports uploads and downloads two to three times faster than other smartphones in a Wi-Fi environment.
With its NFC module, Ascend P2 enables e-payments and can act as an electronic ticket. Huawei's unique Quick Power Control (QPC) and Automated Discontinuous Reception (ADRX) power-saving technologies reduce power consumption by 30% and charging time by more than 25% compared to other smartphones, the company said.
The smartphone's 'magic touch' feature also provides enhanced screen responsiveness even with gloves. The screen also calibrates its brightness automatically under any light conditions, allowing users to perform any function, under any light.
The Ascend P2 provides optimal photo and video features including a 13 MP BSI rear-facing camera with HDR, and a 1.3 MP front-facing camera to support self-portrait and video shooting.
The smartphone will be available globally around the second quarter of 2013 at a yet to be disclosed price tag.
CNME Editor Ben Rossi is reporting live from Mobile World Congress. Follow updates at www.twitter.com/computernewsme and #MWC13.