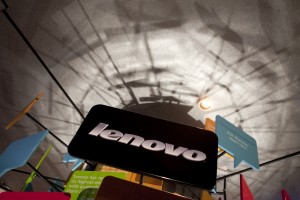 PC sales in China and high growth in smartphones shipments helped boost Lenovo's net profit for its fiscal fourth quarter by 90 percent year-over-year. 
For the quarter ended March 31, Lenovo's net profit was US$127 million, the company said on Thursday. Revenue broke records and was at $7.8 billion, growing four percent from the same period last year.
In Lenovo's home market of China, the company had an operating margin of 4.9 percent, an increase of 8 percent year-over-year. The company also saw continued profitability in its mobile devices business, which makes up 9 percent of its overall sales. At the end of the quarter, Lenovo's smartphone shipments were up 206 percent year-over-year.
Globally, PC shipments were down 13.9 percent year-over-year in the quarter, the market's steepest decline since research firm IDC began tracking the market in 1994. Lenovo itself posted flat year-over-year PC shipment growth in the period.
Smartphone and tablet popularity have hurt PC sales, according to analysts. Computers running Microsoft's Windows 8 have also failed to drum up consumer interest in the previous two quarters.
Lenovo, however, has managed to weather the slowdown by taking advantage of the Chinese PC market, where it has an over 30 percent market share. Close to half of the company's revenue comes from the country, now the world's largest PC market.
The company is now close to surpassing leading PC vendor HP for the top spot. The company had a 15.3 percent share of the market in this year's first quarter, while HP had a 15.7 percent share.
But the Chinese PC maker also plans to focus more of its investment on tablets, smartphones and enterprise hardware, the company's CEO Yang Yuanqing said in a statement. Earlier this year, Lenovo also reorganised its operations to sharpen the company's branding and compete better in high-end products.
For the current fiscal year, Lenovo aims to ship 50 million smartphones, up from 30 million last year, Yang said Thursday in an earnings call. It aims to ship 10 million tablets, a five-fold increase from the previous fiscal year.
Most of Lenovo's smartphone sales come from China, but the company has also begun selling handsets in the emerging markets of Russia, India, Indonesia, the Philippines and Vietnam. In addition, Lenovo is preparing to bring its smartphones to the U.S. and European markets, Yang said, without saying when.
PC sales will also pick up in the second half of this year when vendors launch more low-priced Windows 8 products, he added. During the period, Microsoft is also expected to release Windows 8.1, an updated version that vendors hope will spark interest in the OS.