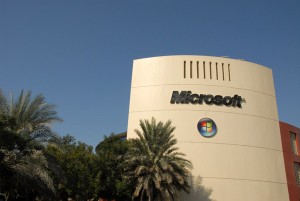 Microsoft celebrated 20 years in the GCC region today at its Open Door UAE event in Dubai.
Since coming to the GCC in 1992, Microsoft has established operations for every nation in the region and has grown to a team of over 600 employees working with more than 1,500 partners.
In addition to its in-market functions, the Dubai-based office also acts as the regional headquarters overseeing Microsoft's activities in Bahrain, Kuwait, Oman, Qatar and the U.A.E.          
Samer Abu-Ltaif, regional GM at Microsoft Gulf, provided the keynote at the event and referred to Microsoft's "very special relationship in the region."
The event featured a full preview of the upcoming Windows 8, which Abu-Ltaif said brings the capabilities of public and private cloud to customers, as well as embracing other trends like consumerisation and social media.
Michael Mansour, developer platform evangelism at Microsoft Gulf, referred to it as "an old friend – Windows 7 is built on top of Windows 8."
He showed off the picture-based password login and the new desktop, which is presented as a dashboard of apps – much reminiscent of that on Windows Phone, it puts apps "out front in the form of live tiles," he said.
In further reminiscence, users will be able to download apps from Windows Marketplace.
Despite the teasers and previews, the release date of Windows 8 was still not revealed.
During the event, Microsoft and its partners also gave focus to Microsoft Office 365, which will be commercially available in July, as well as Windows Azure and System Center 2012, which was released last week and dubbed by Microsoft as the first management software in the market to bring together public and private cloud.
"Microsoft is the only vendor today that has public clouds with Office 365, Windows Azure, software-as-a-service and platform-as-a-service, and then the private cloud with infrastructure-as-a-service," said Goksel Topbas, regional server and tools business group lead at Microsoft Gulf.
"So within System Center 2012 you're going to get to see your private clouds, on-premise physical servers that aren't virtualised, Windows Azure applications and Office 365 deployment. You will be able to manage the public cloud and private cloud. That is the first time it has been done and System Center 2012 does it," he added.
Microsoft also used the event to encourage IT professionals to equip themselves with the skills to enhance their expertise in cloud computing and virtualisation through the Microsoft Virtual Academy (MVA).
Microsoft this year are also celebrating 10 years in Dubai Internet City, which it became the first tenant of in 2002.