His Highness Sheikh Mohamed bin Zayed Al Nahyan, in collaboration with Bill Gates, has launched the 'Reaching the Last Mile' fund to raise $100 million in a bid to eradicate and control preventable diseases that hinder the world's poorest people.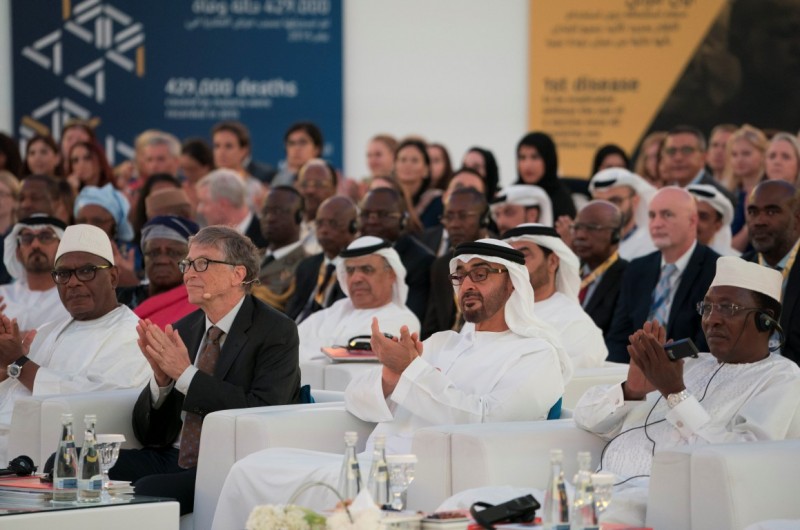 His Highness, the Crown Prince of Abu Dhabi and Deputy Supreme Commander of the UAE Armed Forces, has committed US$20 million to the Fund, and the Bill & Melinda Gates Foundation will contribute up to US$20 million.
The Fund will be managed by the END Fund, a philanthropic investment platform focused on tackling the five most common neglected tropical diseases (NTDs).
The aim of this 10-year Fund is to support the elimination of two debilitating and preventable neglected diseases: river blindness (onchocerciasis) and lymphatic filariasis (which can lead to elephantiasis).
Both His Highness Sheikh Mohamed bin Zayed and Bill Gates attended the global health forum, Reaching the Last Mile: Together to Eliminate Infectious Diseases, held in Abu Dhabi, where the fund was launched on Wednesday evening.
"The UAE, under the leadership of His Highness Sheikh Khalifa bin Zayed Al Nahyan, President of the UAE, continues to provide regional and international support for humanitarian, developmental and health initiatives that target countries and communities in need. The launch of this Fund is part of international efforts to rid the world of two debilitating and preventable diseases," said His Highness.
A major objective of the fund is to fast-track ongoing efforts to end river blindness and lymphatic filariasis in several countries in Africa and the Middle East.
"No human should suffer from a preventable disease, yet these neglected diseases continue to incapacitate millions of people in Africa and the Middle East, added His Highness. "Elimination would help to lift millions more out of poverty, and drive a positive multiplier effect across the continent. There is a need for long-term vision and global partnership to achieve this, and we welcome partners to join us in making an impact."
Bill Gates, co-chair of the Bill & Melinda Gates Foundation, said, "We are close to eradicating some of the world's deadliest and most debilitating preventable diseases that adversely affect the lives of millions of the world's poorest people. Our foundation is pleased to support the launch of a new fund created by His Highness the Crown Prince of Abu Dhabi Sheikh Mohamed bin Zayed as well as the Global Institute to Fight Infectious Diseases in Abu Dhabi. These two initiatives will help accelerate the fight against preventable diseases."