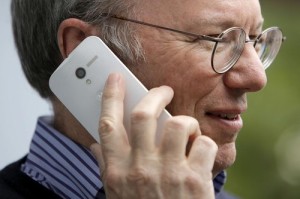 In a few weeks, your wait for the Moto X will come to an end. Motorola plans to take the wraps off its most anticipated Android phone ever on August 1.
The company will host a small, private event in New York where invitees will presumably be the first to check out the phone in person.
A leaked video from a few days ago, allegedly from Canadian telecom provider Rogers, revealed a lot about the phone's camera and new notifications, but something tells me Motorola has a number of features it's keeping under its hat until that first day in August.
Rumours peg the specs on the Moto X as a mid-tier Android phone with a 720p display and either a dual-core processor or a lower-end quad-core processor from Qualcomm. At the D11 conference in May,Motorola's Dennis Woodside hyped up the phone and said the company was working on ways to fix the "mechanical mismatch between humans and electronics", which suggests that the Moto X will feature new sensors never before seen on a smartphone. It's possible the Moto X could have some sort of Google Now-type of framework running within it that knows where you are and what you're doing to predict what apps and services you'll need.
We know the phone will be customisable, but one thing everyone seems to be overlooking is the price: If the Moto X does turn out to have middling specs, it wouldn't be too far-fetched to think that Google will sell it for less than the cost of the $299 Nexus 4. An unlocked, $100 Nexus-type device would be a huge deal because it would make smartphones even more accessible than they already are. Not to mention that the Moto X would absolutely decimate any other smartphone retailing for that price on a two-year contract, effectively killing Nokia and its Lumias (which are normally priced between $99 and $150).
Let's hope the Moto X lives up to the hype. We'll give you the full rundown on the phone when we get our hands on it in a few days.