RAKBANK is the first bank in the Middle East to introduce Samsung Pay solutions for its ATMs, in partnership with Samsung Gulf Electronics.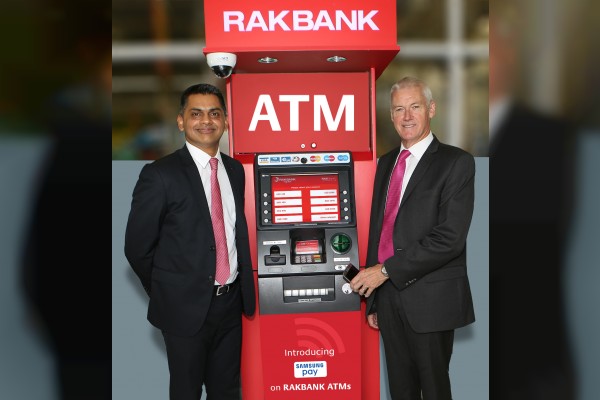 This innovative digital solution enables the bank's customers to make cardless cash withdrawals from RAKBANK ATMs using their Samsung smartphones without the need for a physical debit or credit card.
Considered a 'mobile revolution,' the Samsung Pay solution for ATMs is an end-to-end contactless process, which furnishes customers with "effective, secure, convenient, and easy-to-use digital solution" that will allow them to withdraw cash without their cards at RAKBANK ATMs.
"RAKBANK has a rich history of innovation where the bank has managed to transform the concept of digital banking in the UAE through a host of award-winning digital solutions such as the revamped Digital Banking Platform, MobileCash, Tablet Banking, and Web Chat authentication services," said Peter England, CEO, RAKBANK. "Staying true to our prominent position as an innovative and dynamic player, we now extend our Samsung Pay solution to ATMs and create an end-to-end contactless process for our customers."
He added, "Currently, RAKBANK is taking a phased-out approach and shall begin by targeting ATMs that have strong footfall in locations such Dragon Mart 2, Wafi Mall, and City Centre Me'aisem. Soon, customers will be able to use Samsung Pay solutions on most of the bank's ATM network."