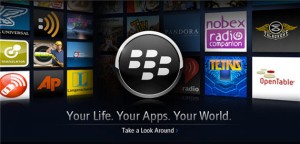 Research In Motion announced on Monday that it has renamed its web store BlackBerry World, in advance of more content being added ahead of the launch of the BlackBerry 10 operating system.
RIM recently announced that users will soon be able to download videos and music from the store in addition to applications, and the naming change reflects that shift as the company transitions to BlackBerry 10, the firm said.
The store was previously called BlackBerry App World.
The change will happen on the web storefront first and will then be rolled out to the BlackBerry PlayBook tablet and BlackBerry smartphones in the coming weeks, according to RIM.
On January 30, RIM will launch the first two smartphones based on BlackBerry 10, hoping to turn around its ailing fortunes.
Everyone is buzzing and the company is looking forward to showing the world how good BlackBerry 10 is, Rob Orr, Managing Director for the U.K. and Ireland, RIM, said last week.
What users of the new operating system will be able to download from BlackBerry World will be a key part of its future success or failure, but RIM has been working hard to get developers on-board and there is an interest.
At two developer events organised by the company earlier this month, over 1,000 people submitted over 15,000 apps for BlackBerry 10 in less than 48 hours.