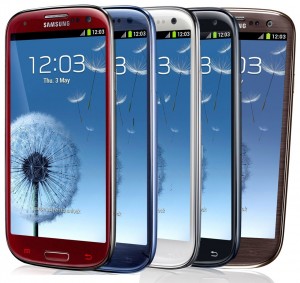 Samsung has sold more than 100 million smartphones from its Galaxy S line since the first one sold in May 2010, the brand reported on Monday.
The electronics giant said that 30 million Galaxy S3 devices were sold in five months, and that, after seven months, that number had risen to 40 million.
This puts average daily sales at 190,000 units.
It took the S3's predecessor, the Galaxy S2, a total of 20 months to hit 40 million units. Even so, going on these sales results, the Galaxy S Series is the most successful smartphone line for Samsung.
The success of the Galaxy S3 has helped Samsung reach the top spot globally in cell-phone sales and has boosted the prominence of the Android mobile operating system among several carriers, according to analysts. For all of 2012, Android's global smartphone share was 65%, followed by Apple's iOS at 21%, according to research firm IDC.
Speculation is rising that Samsung will announce a Galaxy S4 smartphone at the Mobile World Congress in Barcelona in late February. Shipping could start in May, a full year after the launch of the S3. Samsung would not comment.
Various sources have indicated that the S4 will have a 5-inch display with full HD 1080p resolution, Samsung's Exynos 5 Octa processor and a 13-megapixel camera. The phone would run either Android's Jelly Bean or the next-generation Android operating system, known as Key Lime Pie.
In a CES keynote by Samsung president Stephen Wo, the Octa was described as having two sets of four processing cores each. Demonstrations of a reference design tablet showed it running a 3D video game while also processing various tasks.
The Octa chip will compete against Nvidia's Tegra 4 chip and Qualcomm's 800 series processors. But Octa will offer power savings of 70%, Woo said. He described it as having four Cortex A15 cores for running video and four Cortex A7 cores for low-power tasks like texting.