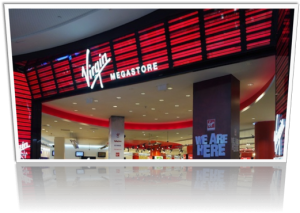 This year marks Virgin Megastore's first stand-alone participation at GITEX Shopper and commemorates the brand's 10th year in the MENA region, the company said.
The  retailer plans to celebrate its landmark anniversary by offering its customers cutting edge electronics, gadgets and exclusive merchandise and apparel at the Middle East's biggest consumer electronics retail event.
Virgin Megastore's focus during the exhibition will be on multimedia products, Apple accessories and gaming accessories and the company said that it will also present the cornerstones of its brand such as movies and music.
Additionally, Virgin Megastore's intent is to create a more female and child-friendly destination at their stand by bringing in relevant gifts and gadgets, so the entire family can enjoy their GITEX Shopper experience, representatives said.
Nisreen Shocair, president of Virgin Megastore MENA, said, "Virgin Megastore celebrates its 10th year anniversary in the UAE this October, and as part of the celebration we are proud to be participating for our first time in the exciting GITEX Shopper event. There is no doubt that GITEX Shopper offers the perfect platform for Virgin Megastore to showcase the fast growing consumer electronics segment of our business and enables us to celebrate our milestone birthday with tens of thousands of our loyal customers across the region. Visitors to this year's Virgin Megastore GITEX stand will not be disappointed."
Gitex Shopper customers can look forward to discounts at the Virgin Megastore stand, as well as bundle deals and special offers, the company said.
Top-selling products that will be available at the show include Soul Pro Headphones by Ludacris, Monster Diddybeats Earphones, Moshi Moshi Handsets, H1 Zoom Recorders, Bucky Balls, Smurfs Collectibles, iStyle Originals, DC Marvel Comics iHip Headphones, Liquid Image Camera Mask, JCB Tradesman, EMTEC USB, Idapt Chargers, Angry Bird T-shirts and many more, the company added.