Anita Joseph caught up with Marcus Josefsson, VP EMEA at Nozomi Networks to learn more about cyberthreats that OT & ICS environments face, and how the Nozomi Networks' product portfolio can be leveraged to boost cyber resilience in critical infrastructure, industrial networks and government organisations in the region.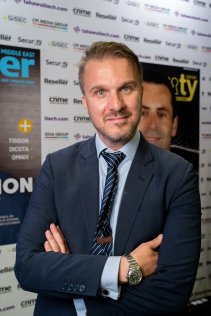 Tell us about why GISEC is important and the products and solutions you are highlighting this year
GISEC is an important event where we get to meet with existing customers and partners, both new and potential. This year, however, is special, because we now have local cloud capability in the UAE which is something our customers, such as those in oil & gas, utilities, retail, critical national infrastructure, real estate, hospitals etc, find relevant and necessary. A lot of them wish to migrate to the cloud, but they would like to do that in a compliant fashion and that's what we help our customers with. We've also extended our product range with endpoint agents to capture visibility from endpoints on the network. So, those are the two main stories that resonate with our customers and partners at this stage.
What are your plans for the region this year?This region is growing and we are market leaders due to the fact that we were here a few years ago. Competition arrived a year back, and they have a lot to cover. We make sure
we keep delivering the value we have been delivering over time to resellers, system integrators and of course, our existing customers.
We've captured most of the customer base in the type of verticals that we traditionally go after. So now we're in a place where we are focusing on areas like retail, hospitals etc. We've seen some very good progress; some very significant wins and our partners have been with us in this journey. We moved from securing oil and gas utilities, etc to helping out banks, retail outlets and hospitals, because these sectors have similar challenges with very similar networks. They are now waking up to the need for cybersecurity controls, regulatory compliance and so on.
What are some of the cyber threats that OT and ICS environments should watch out for this year?We're going to keep seeing state-sponsored threats and geopolitical tensions. In fact, state-sponsored attacks are extremely clever and advanced, and have been so for a while. We're also seeing a lot of retail malware-off-the-shelf stuff, as these are environments are becoming more and more exposed. Also, with the Internet of Things and the fact that everything's connected, means that everything is exposed. Today, environments, which we didn't think about that necessarily as critical national infrastructure are also getting compromised and we're seeing that the awareness that comes from traditional OT verticals are now spreading into everything from military to hospitals since they all have the same type of networks. So they've all become super important and it's necessary to get visibility and cybersecurity controls across these as well.
How can Nozomi Networks' product portfolio actually be leveraged to boost cyber resilience in critical infrastructure, industrial networks and government organisations in the region?
From a product perspective, the first phase is always visibility-you can't secure what you can't see. And what we see is that when customers embark on this journey once they've finished with their assessments and drawn their plans, the first type of technology that they need to embrace is to try and understand what's going on. And Nozomi Networks plays a big part here, helping them understand what the assets are, what the network looks like, how communication happens there and so on. That's the first step.
Secondly, there are more and more compliance regulations coming in. So, we're also assisting customers from that perspective. And now we're able to leverage the cloud locally, and the endpoint agents provide even more visibility. The region is forward-leaning, it's innovative, but there's still so much to do. We've done maybe 5% of what we came to do, and the company has grown significantly over the last five years, just looking at this region from a revenue perspective. So, we've come a long way, but most of it is ahead of us.